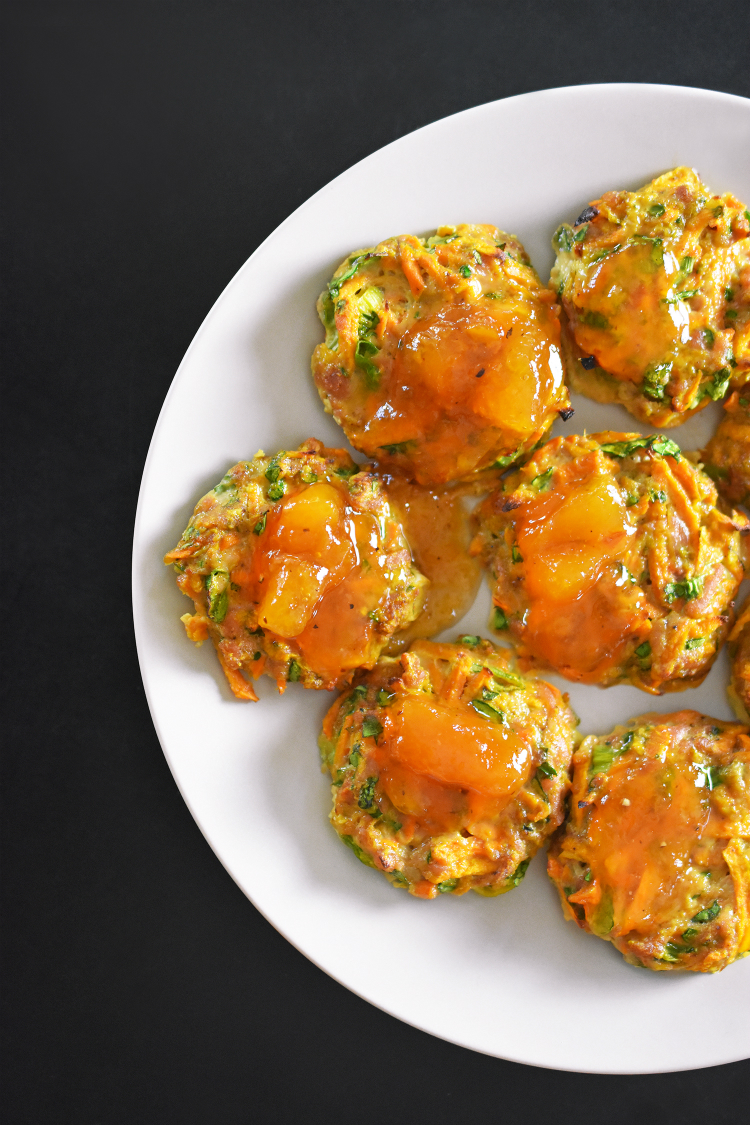 Contrary to popular belief, most of my best friends IRL aren't Paleo eaters. But who cares? I hang with a gal pal posse that meets for regularly scheduled meals and coffee dates to escape for an hour or two from our hectic schedules. These ladies help keep me sane, especially when I've been cooped up at home, cranking away on all things Nom Nom Paleo. Besides making me laugh every time we gab, my friends also keep me grounded in what "normal" folks want to eat. They've made clear that my Paleo-fied chocolate cake (a recipe that I'm testing for cookbook #2) passes their scrutiny, but they're totally not onboard with my offal-filled delights. Despite our dietary differences, though, we do agree that all recipes should be family-friendly, easy yet flavor-packed, and filled with protein and veggies. If the dish can be made ahead, freezable, and portable, all the better.
Today, I'm dedicating this recipe to my gluten-lovin' buddy and fellow posse member, Maria, who was thisclose to moving away with her family to the East Coast this summer. Luckily, fate intervened, and our "talking club" is intact for the foreseeable future. Inspired by a recent conversation about ground turkey—Maria's favorite protein—I experimented in the kitchen with different vegetable and spice combinations to come up with the perfect savory bite. If you're not a ground turkey super-fan like Maria, feel free to substitute ground chicken, pork, beef, bison, or lamb. (Heck, you can even throw in some ground hearts, too, if you're feeling extra Paleo.) The tangy and sweet dipping sauce makes the turkey bites taste even better, but make sure you find a jam that's sweetened with only fruit and isn't packed with other crazy ingredients.
(If you want to watch a replay of me cooking these live in my kitchen, check out this Facebook video.)
Now, who's ready to make these savory turkey "cookies"?
Makes 30 (2-inch diameter) patties & ¾ cup dipping sauce
Ingredients
Curry Turkey Bites
1 pound ground turkey (step away from the super low-fat stuff!)
2 cups (230 g) shredded sweet potato (about 1 large one)
1 cup (60 g) finely chopped Swiss chard leaves, loosely packed
1 large egg, whisked
1 teaspoon minced garlic
1 teaspoon minced ginger
1 serrano pepper, seeded and minced (optional)
2 scallions, thinly sliced
1 tablespoon Indian curry powder 
2 teaspoons kosher salt
Juice and zest from 1 lime
Apricot-Ginger Sauce 
2 tablespoons coconut aminos
½  teaspoon minced fresh ginger
¼ teaspoon freshly ground black pepper
2 tablespoons lemon juice
Equipment
Method
Preheat the oven to 400° F convection bake or 425° F non-convection bake with the rack in the middle position. Line two rimmed baking sheets with parchment paper and set aside.
In a large bowl, combine all the turkey bite ingredients: ground turkey, shredded sweet potatoes, chopped chard leaves, whisked egg…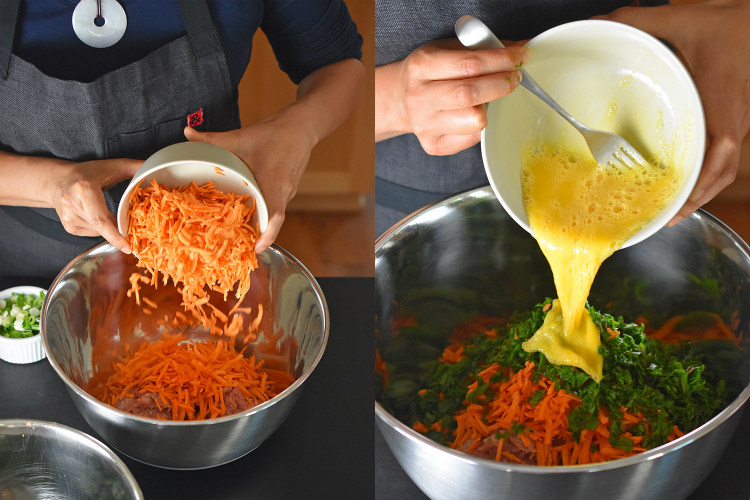 …garlic, ginger, serrano pepper (if using), sliced scallions, curry powder…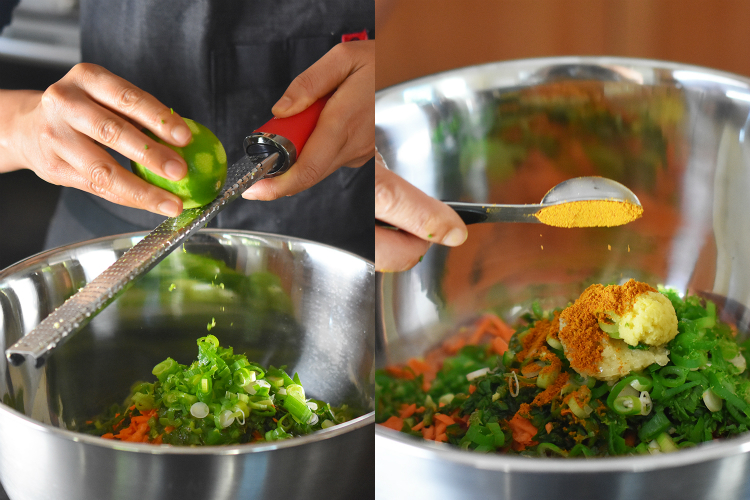 …salt, and the zest and juice from one lime.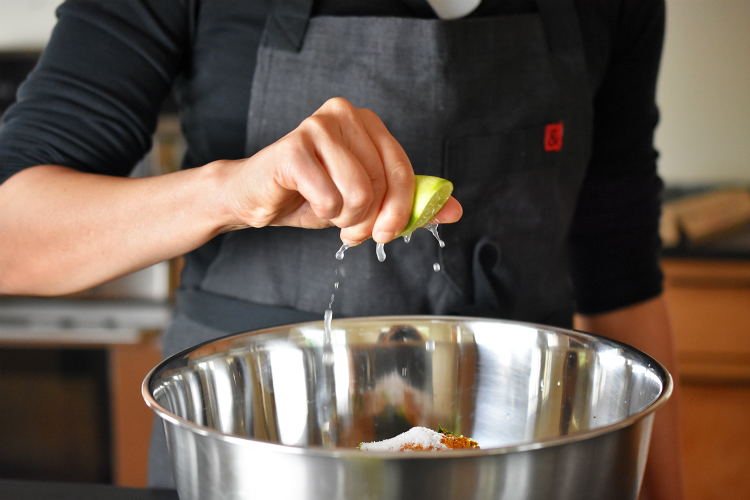 Yes, these patties are packed with vegetables.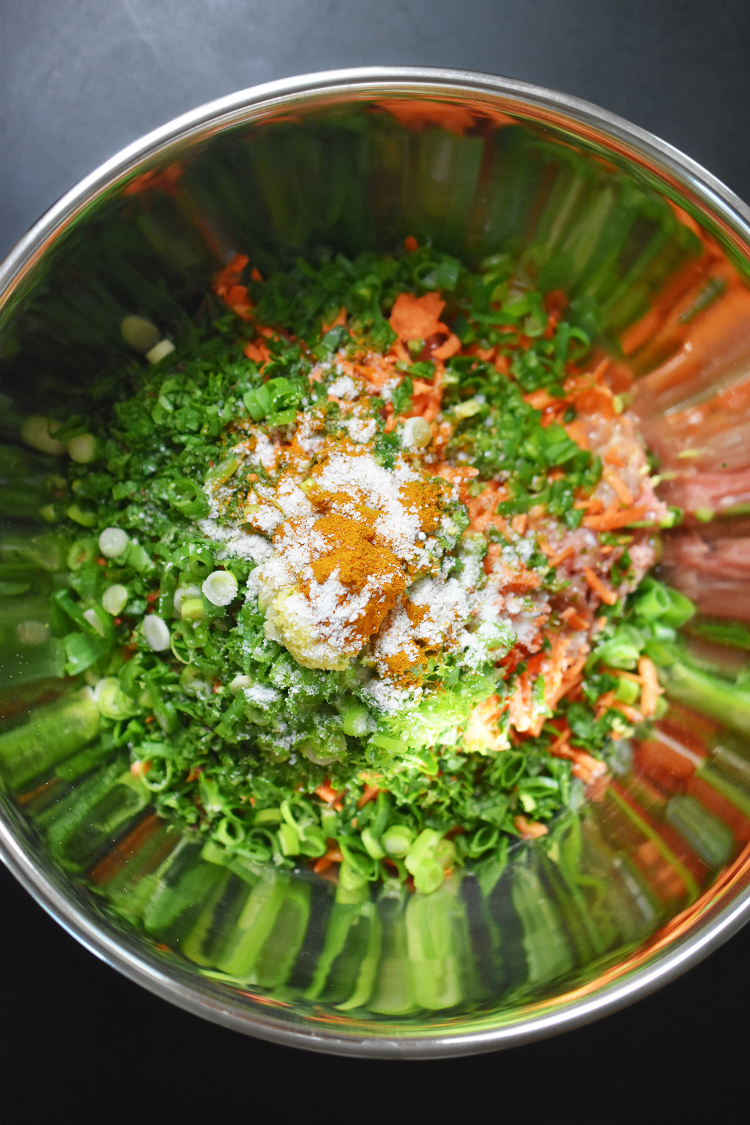 Using your hands, mix all the ingredients together until well combined, but don't overwork the mixture.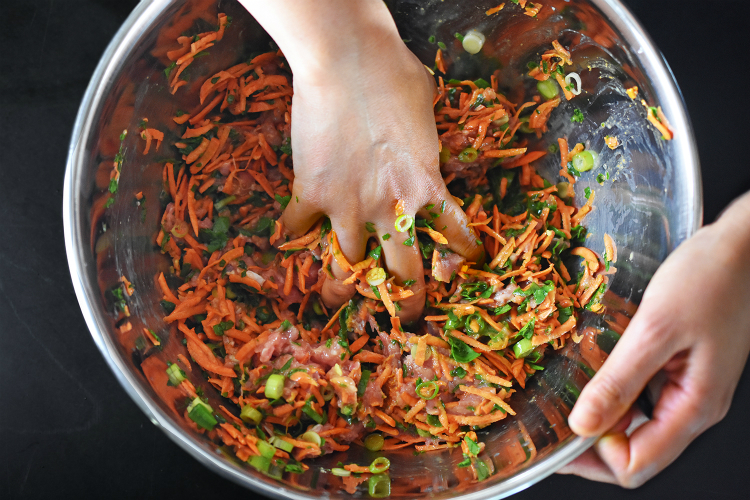 You can check for seasoning by pinching off a bit of the meat mixture and frying up a tiny patty. Taste it, and adjust the seasoning as needed.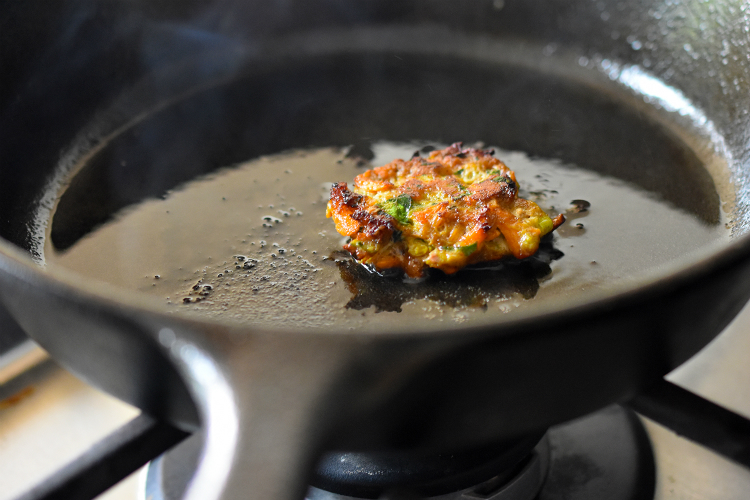 Scoop out heaping tablespoon balls and arrange them on the two lined baking sheets, making sure they sit about 2 inches apart.
Smoosh each ball with your fingers into ½-inch thick patties.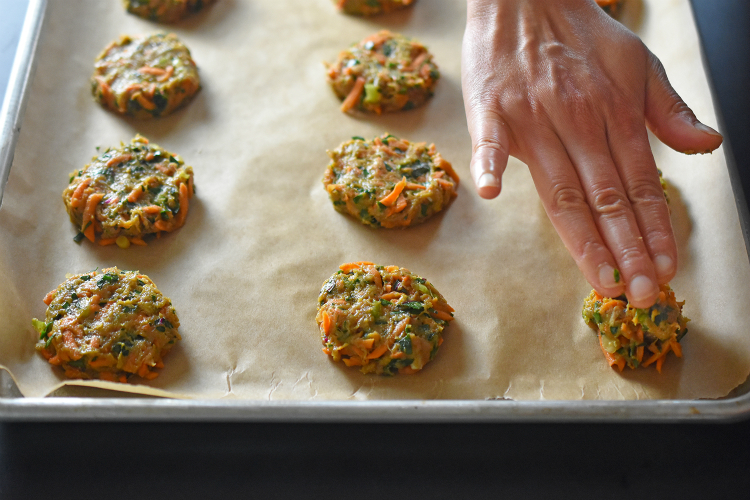 Cook one tray in the oven for 15  minutes or until browned on the edges and cooked through, rotating the tray at the midway point. Bake the second tray of patties the same way.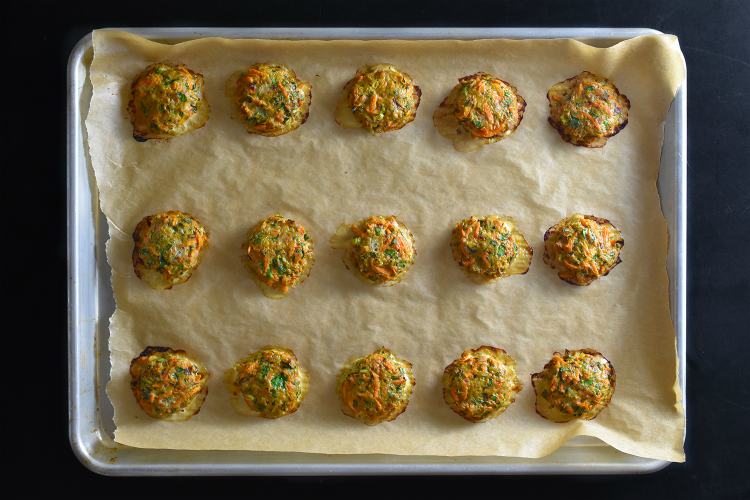 While the bites are baking, make the dipping sauce.
In a small saucepan, combine the coconut aminos, apricot jam…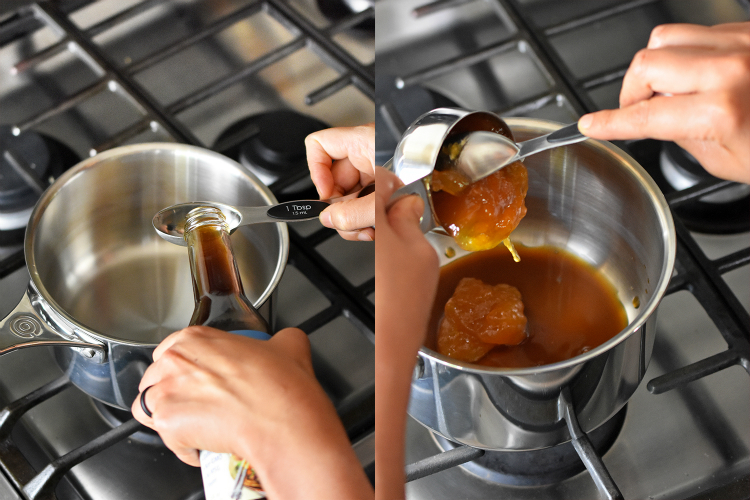 …and fresh ginger.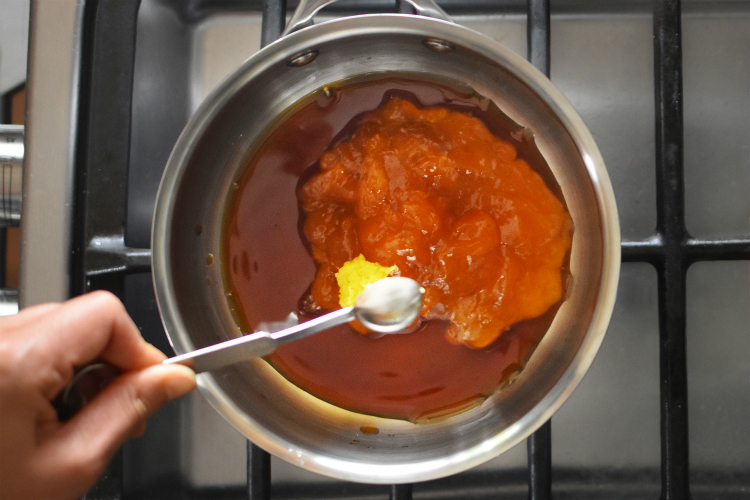 Stir the sauce over medium heat until simmering.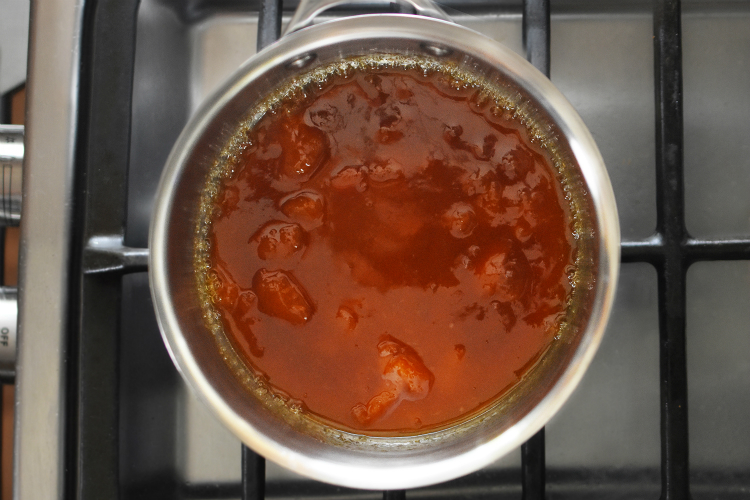 Remove the pot from the heat, and add the freshly ground black pepper and lemon juice.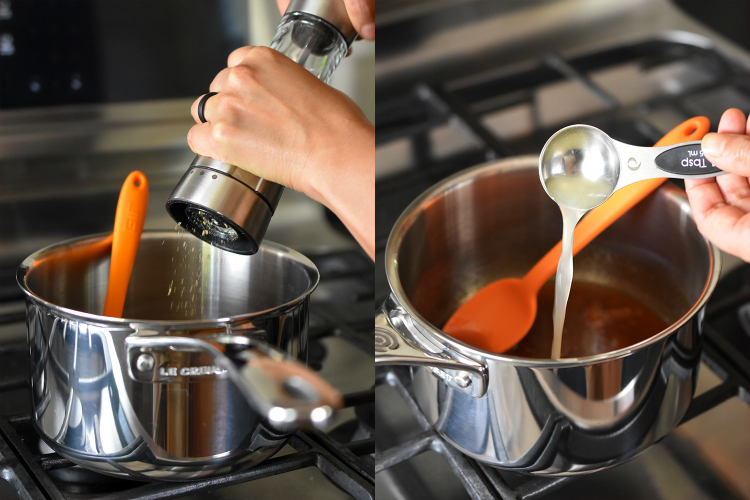 Serve the turkey bites with the dipping sauce.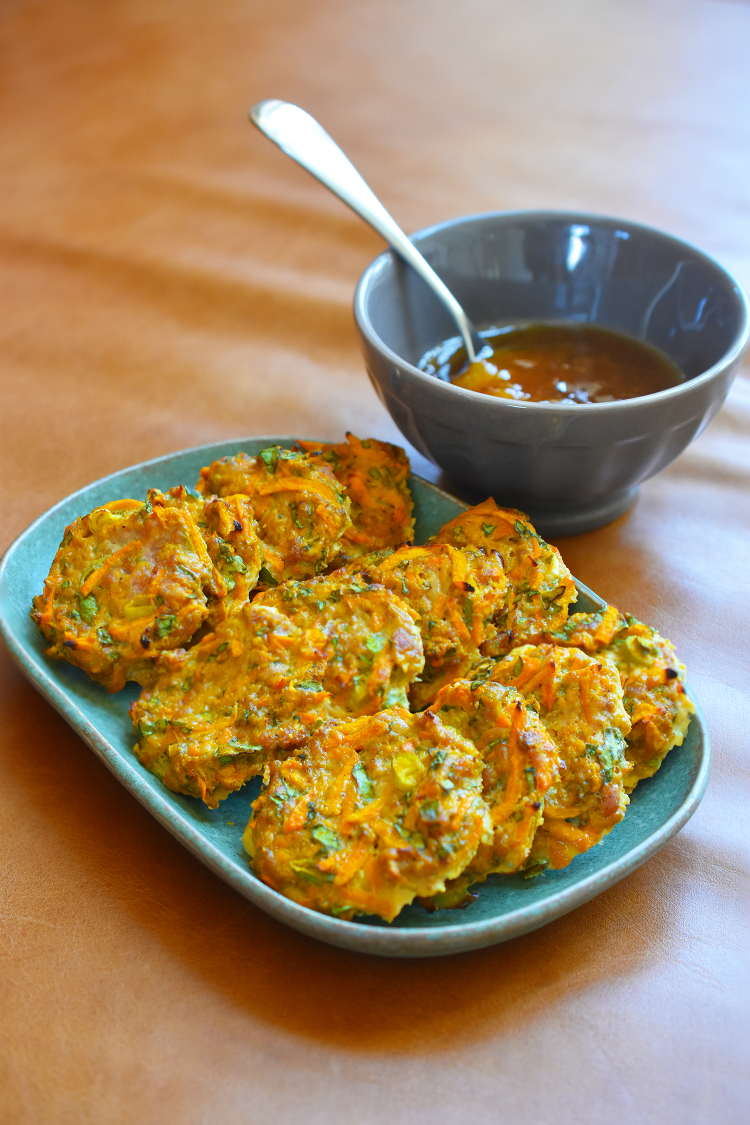 Pro-tip: The turkey bites can be stored in a sealed container in the fridge for up to a week or in the freezer for up to a month. I fry the frozen patties over medium heat with some melted ghee (about 2-3 minutes per side) and transport them in a nifty LunchBots Thermals to keep them warm until you're ready to nosh! It's the gift that keeps on giving.
---
Looking for more recipes? Head on over to my Recipe Index! You'll also find exclusive recipes on my Webby Award-Winning iPhone® and iPad® app, and in my New York Times-bestselling cookbook, Nom Nom Paleo: Food for Humans (Andrews McMeel 2013).
0