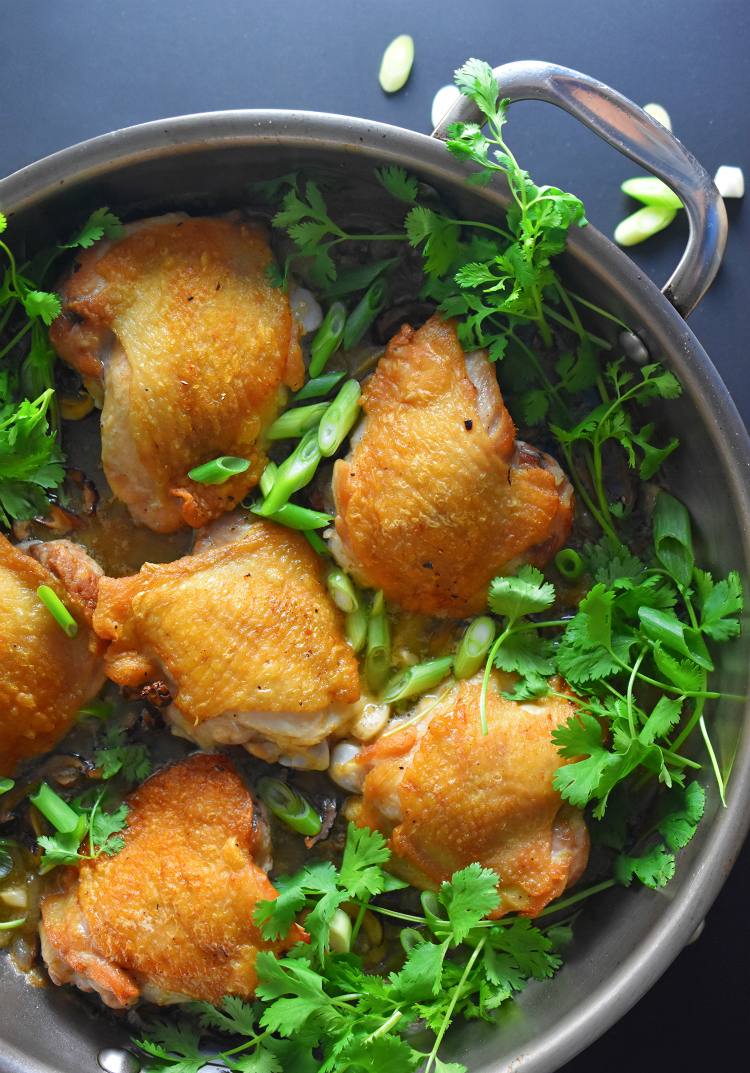 When I was growing up, one of my mom's weeknight dinner standards was a Cantonese steamed chicken dish with sliced shiitake mushrooms, ginger, and scallions. The combination of these umami-packed ingredients yielded a dish that tasted exponentially better than the individual parts—umami synergy in action!
Recently, my picky younger son, Ollie, declared that his grandmother's cooking is far superior to mine ("no offense, mom, but poh-poh's a better cook than you because she cooks with Chinese flavors—you're number two"). I tell him that I agree with him 100 percent, but not to tell my mom. (I like to needle my mom, just like Ollie likes to needle me.) Ollie did throw me a bone, though: "I love your Cracklin' Chicken, mom. I just wish you'd make it with Chinese flavors."
Ollie never makes any special requests for recipes, so I decided that this was a challenge worth taking. Taking inspiration from both my mom's Cantonese chicken dish and my friend Simone Miller's Pan-Roasted Chicken with Bacon and Apples, I created this simple yet flavor-packed chicken dish with ingredients that remind me of my childhood. And did I mention that the chicken skin gets super crispy (like Cracklin' Chicken!), the juicy meat is infused with tons of flavor, and you only dirty one pot?
I have a feeling this is gonna be your new favorite weeknight Whole30-friendly chicken dish…
Serves 4
Ingredients
6 dried shiitake mushrooms
1 tablespoon ghee
1 cup thinly-sliced shallots (about 3 large)
Kosher salt
6 bone-in, skin-on chicken thighs
2-inch piece ginger, peeled and cut into thin coins
6 garlic cloves, peeled and smashed
¼ teaspoon freshly ground black pepper
1 cup bone broth
1 teaspoon fish sauce`
¼ cup sliced green onions/scallions
¼ cup roughly chopped fresh cilantro
Equipment
Method
Dried shiitake mushrooms are one of the key components to this dish. They pack a giant wallop of flavor 'cause they have more than 15 times the amount of umami as fresh shiitake mushrooms. Plus, you can keep them in your pantry for months and pull them out whenever you need an extra burst of flavor. I'm convinced that my mom's cooking tastes so good because she adds reconstituted dried shiitake to EVERYTHING.
Of course, you do need to reconstitute these dried mushrooms in water before using them (unless you're throwing them in a soup), and they need time to rehydrate. The package normally says to soak them for 30 minutes, but I've found that it always takes longer. If you're planning to make this chicken dish, take a few minutes earlier in the day to rinse the dried mushrooms to remove dirt. Then, put the mushrooms in a large bowl and cover with water.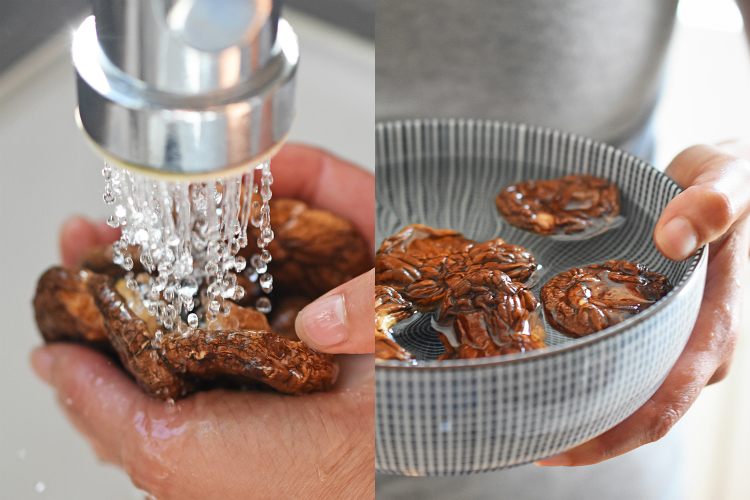 When you're ready to cook the chicken, preheat the oven to 450°F with the rack in the middle position.
Heat a 12-inch oven-safe heavy bottomed skillet over medium heat. Melt one tablespoon of ghee in the hot pan, add the sliced shallots, and a sprinkle of salt.
Cook until the shallots are softened, stirring occasionally. This should take 5-10 minutes.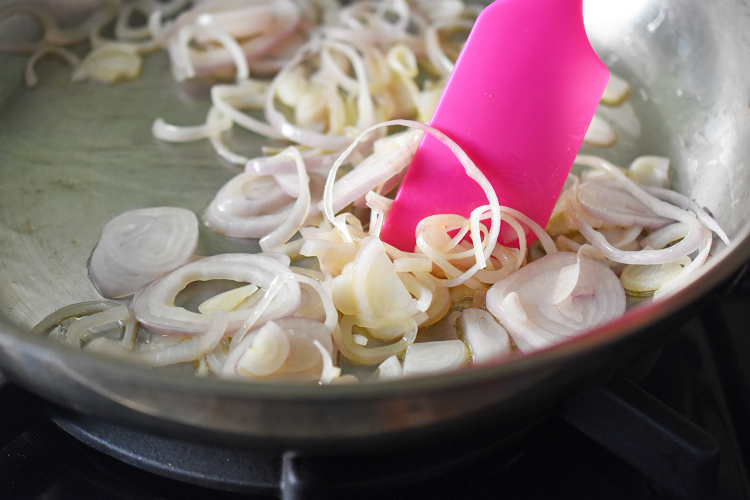 While the shallots are cooking, sprinkle kosher salt liberally (about 2 teaspoons) on both sides of the chicken pieces.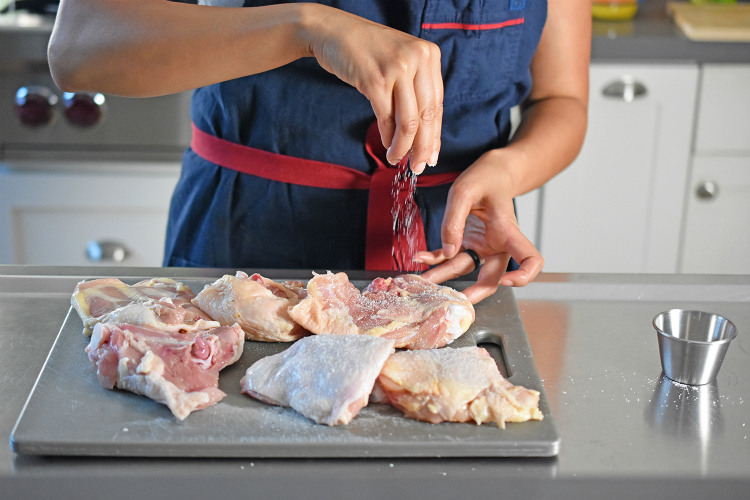 Squeeze out the excess liquid from the reconstituted mushrooms, slice off the woody stems (which can be reserved for bone broth)…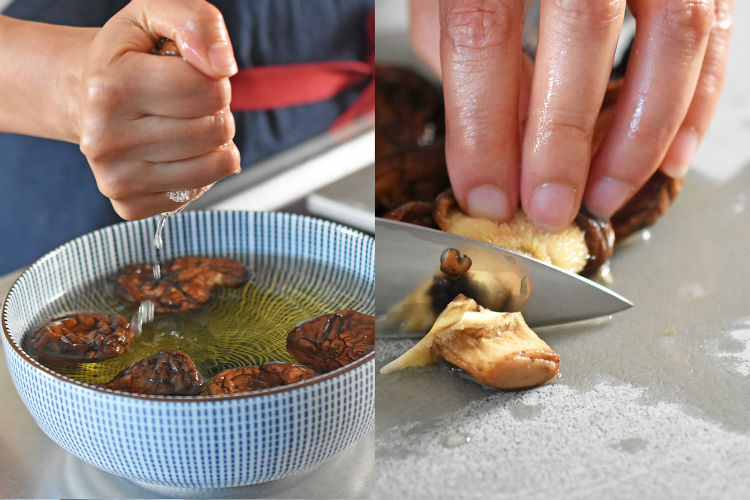 …and thinly slice the caps.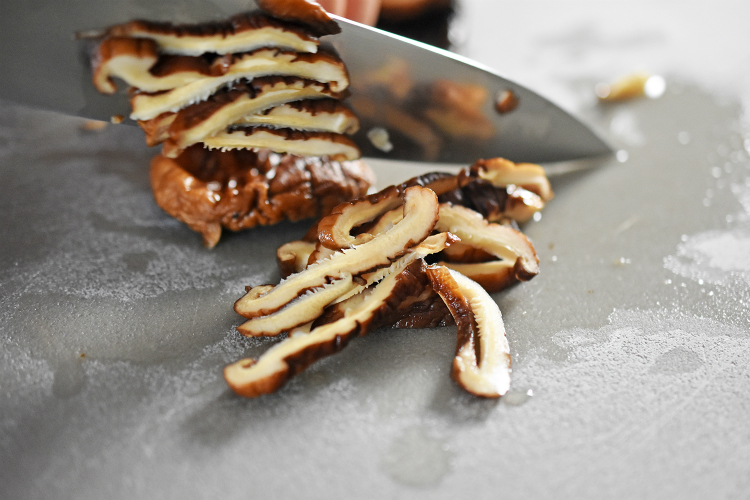 Once the shallots have wilted, add the sliced mushrooms, ginger, and garlic.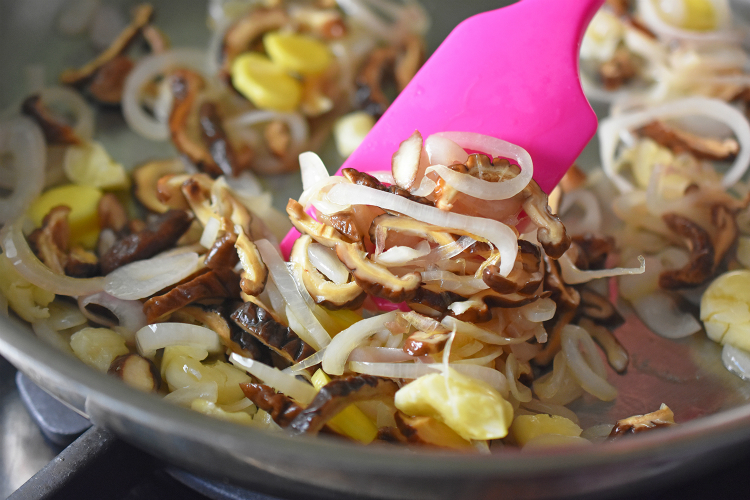 Stir-fry for about a minute or until aromatic. Transfer the vegetables to a plate.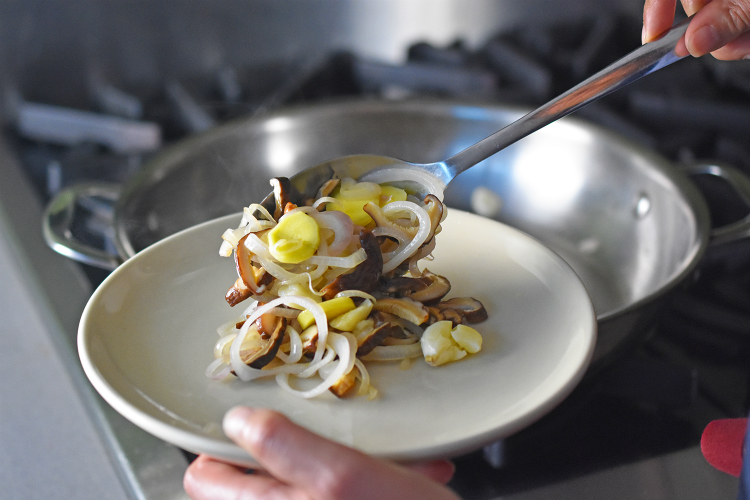 Return the pan to the stovetop, wipe out any remnants with a paper towel, and increase the heat to medium-high. Then, sear the chicken pieces skin-side down in the hot pan until nicely browned and crispy, about 4 to 5 minutes.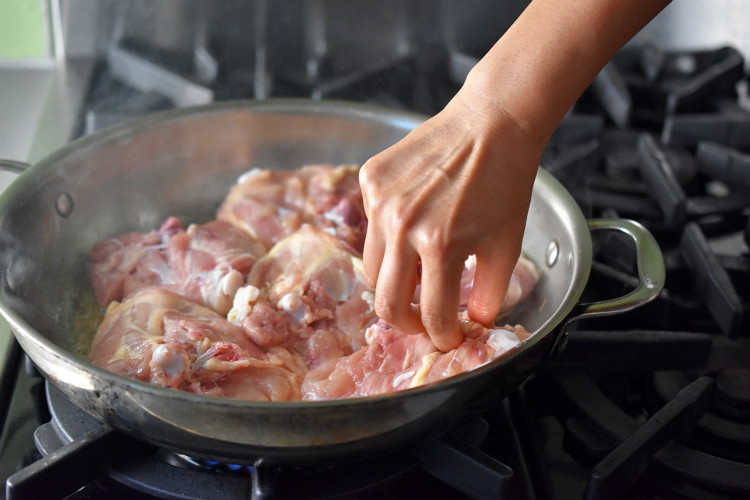 While the skin is crisping, add freshly ground black pepper to the meaty side.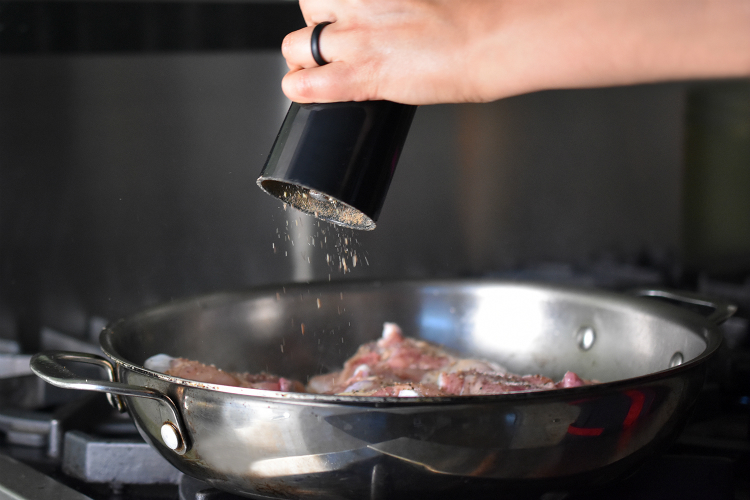 When the skin is golden brown…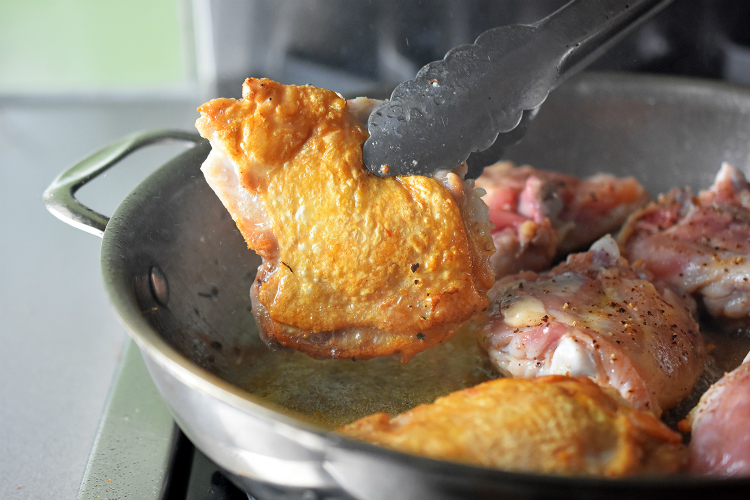 …flip the pieces over and cook for 2 minutes more.
Stir the fish sauce into the broth and pour it in the pan, making sure to avoid pouring the liquid on the crispy skin.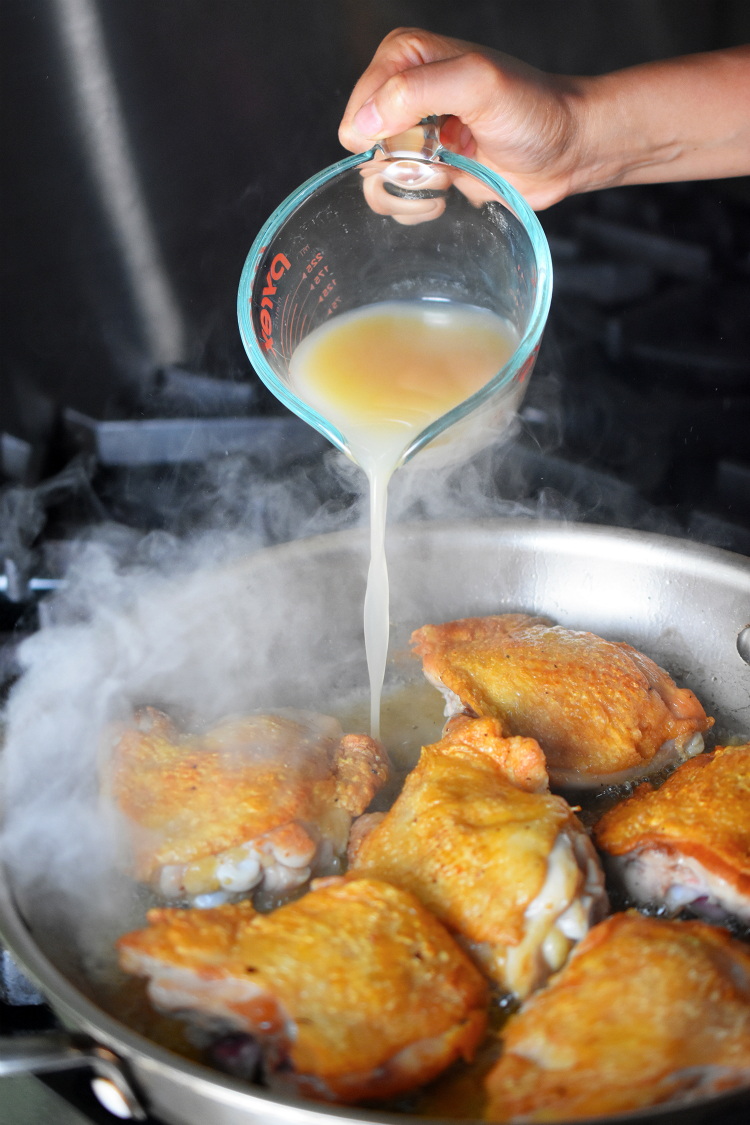 Add the reserved shallots, mushrooms, and garlic back to the pan, tucking them in between the chicken pieces. Again, make sure not to cover the skin!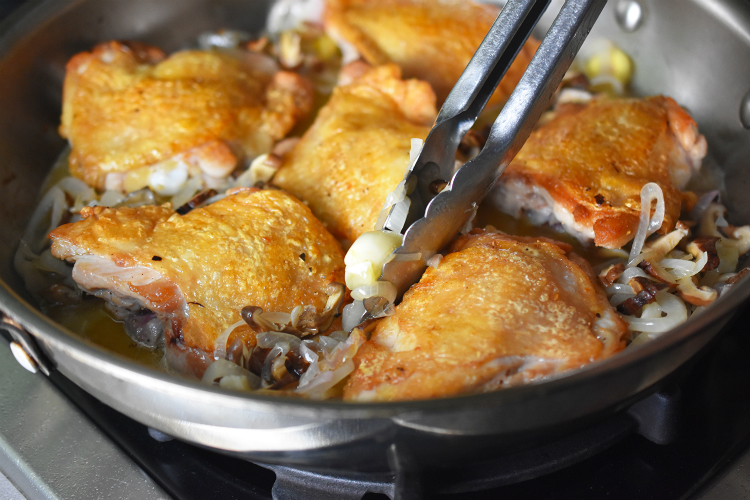 Transfer the pan to the hot oven and roast the chicken for 15-20 minutes or until the internal temperature of the chicken reaches 165°F. (You have a meat thermometer, right? Use it!)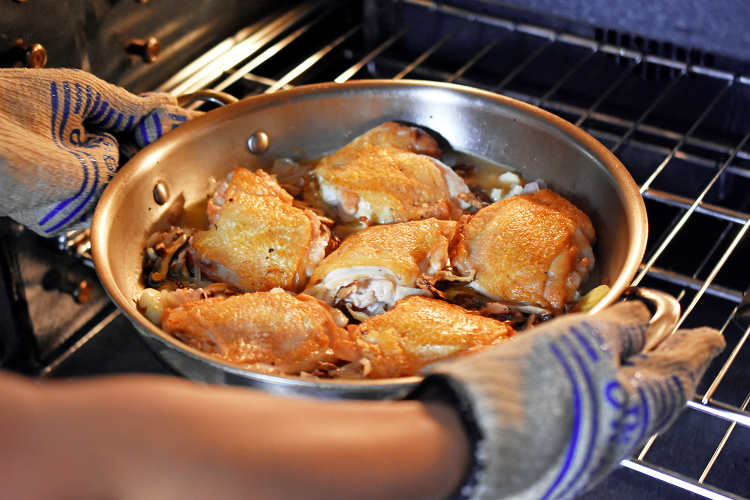 Put on your heat-proof oven gloves, before you grab the pan.
Taste the sauce for seasoning and adjust as needed. Garnish the chicken with a shower of sliced scallions and cilantro, and dig in!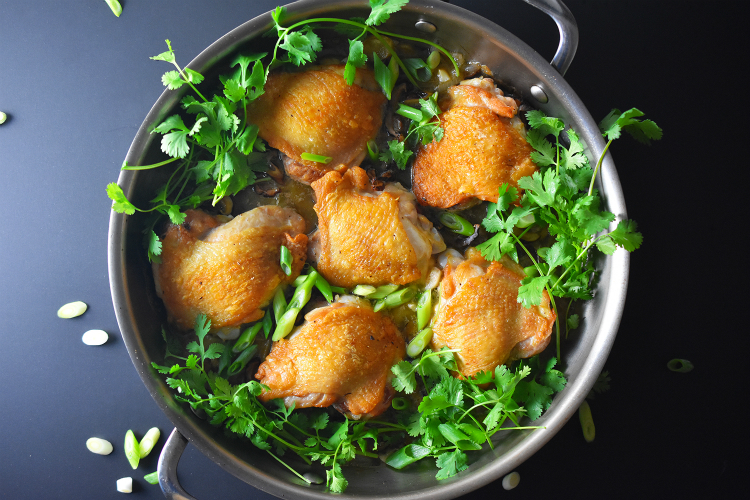 By the way, this dish tastes fantastic with my Asian Cauliflower Fried Rice. Just sayin'.
---
Looking for more recipes? Head on over to my Recipe Index! You'll also find exclusive recipes on my Webby Award-Winning iPhone® and iPad® app, and in my New York Times-bestselling cookbook, Nom Nom Paleo: Food for Humans (Andrews McMeel 2013).
0