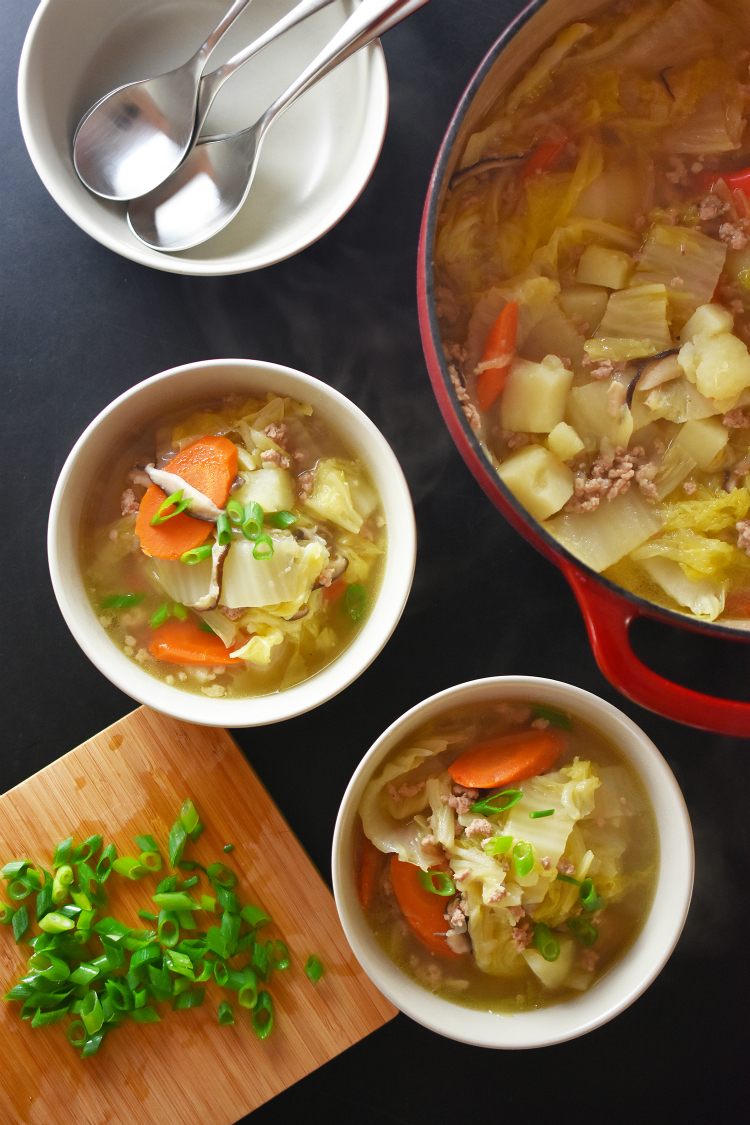 Yearning for comfort in a bowl? This one-pot, umami-packed soup fits the bill and it can be in your mouth in about 30 minutes. It's inspired by one of my mom's recipes, and my kids can vouch for the fact that she's the best cook on the planet. (They remind me of this constantly.) Night after night for years on end, after long days of number-crunching at the office, my mother cooked amazing family-style Cantonese suppers. Each meal was capped off with a huge bowl of savory soup—a different one every night.
Although my mom didn't know the word "umami" back then, she was already demonstrating its power in all her dishes. As a kitchen ninja, she knew that by combining umami-packed ingredients, she'd end up with a final product that's exponentially more delicious than the sum of its parts. It's no wonder that one of my favorite of her soups featured pork ribs, Napa cabbage, carrots, shiitake mushrooms, potatoes, and broth—all ingredients that pop with umami. Try this recipe, and you'll be astonished at how these simple ingredients come together to make an amazingly flavorful soup.
Because I'm way lazier than my mom, I recreated her soup as a hearty one-pot meal packed with meat and veggies. This mama ain't got time to do more dishes on a busy weeknight. To cut down your hands-on cooking time even more, I've even included instructions for how to make this recipe in an electric pressure cooker.
Ready to get your soup on?
Serves 6

Ingredients
1 teaspoon ghee or fat of choice
1 small onion, diced
Kosher salt
1 pound ground pork (ground chicken thighs, beef, and turkey also work)
6 large fresh shiitake mushrooms, stemmed and thinly sliced (dried and reconstituted 'shrooms work, too)
2 garlic cloves, minced
6 cups bone broth or stock
1 head Napa cabbage (2 pounds), cut crosswise into 1-inch segments (bok choy or Savoy cabbage are good alternatives)
2 large carrots, peeled and sliced into coins
1 large russet potato, peeled and cut into 1-inch cubes
Freshly ground black pepper
3 scallions, thinly sliced
Equipment
Method
Heat the ghee in a large pot over medium heat. When the fat is shimmering, toss in the diced onion with a sprinkle of salt.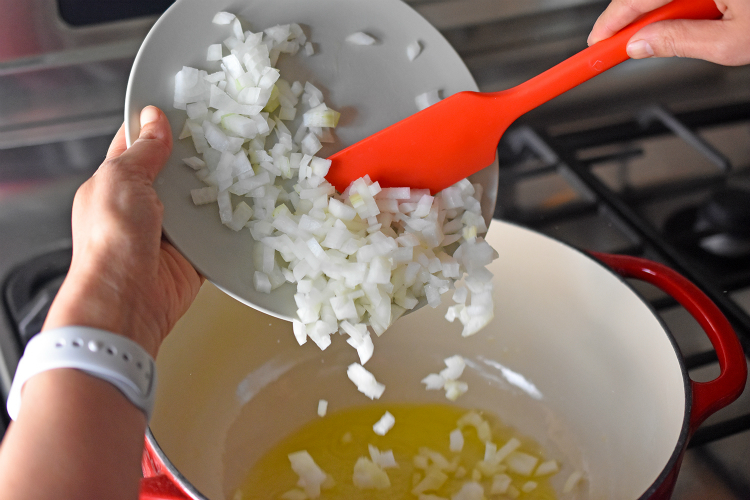 Sauté the onions, stirring occasionally, until softened (about 3 minutes).
Add the ground pork and break it up with a spatula.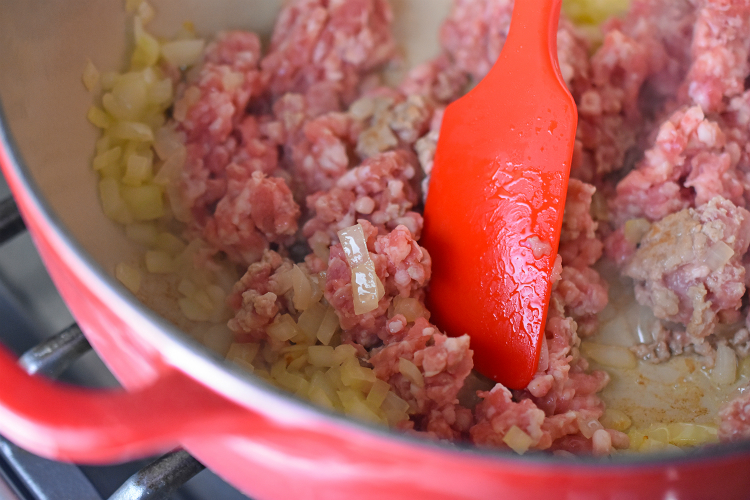 Stir in the sliced mushrooms and another sprinkle of salt.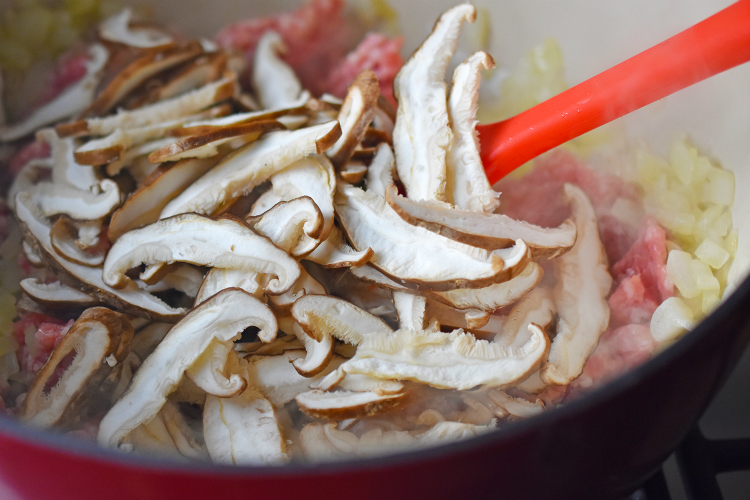 Cook the pork and mushrooms until the meat is no longer pink and the shiitakes are tender (about 5 to 7 minutes).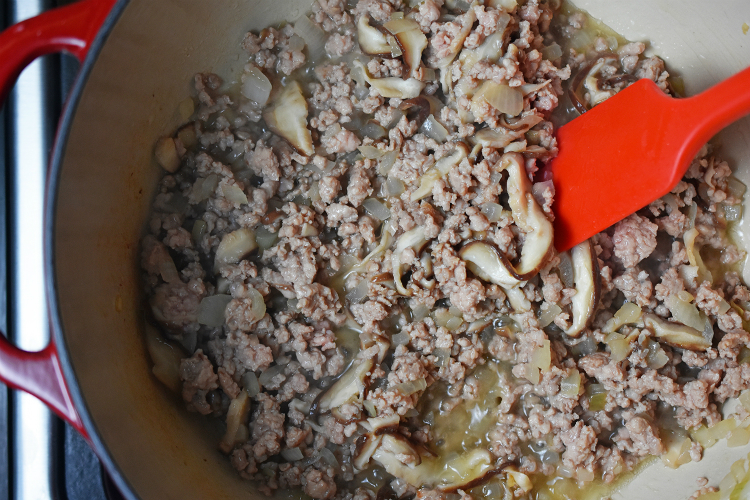 Stir in the minced garlic and cook until fragrant, about 30 seconds.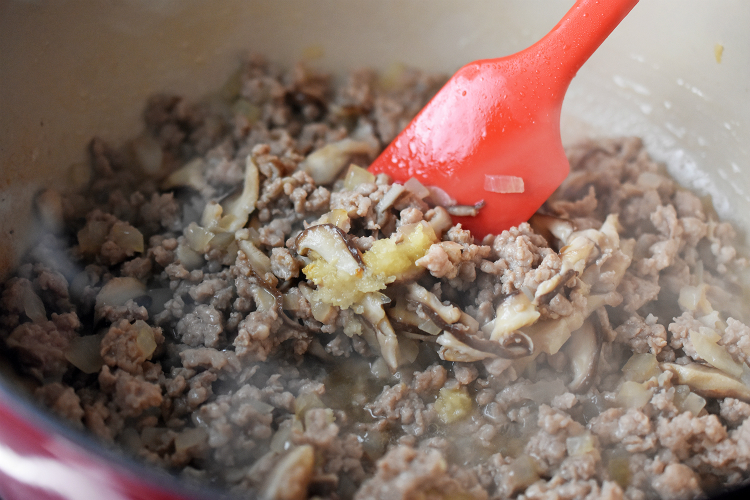 Pour in the broth and crank up the heat to high. Bring everything to a boil.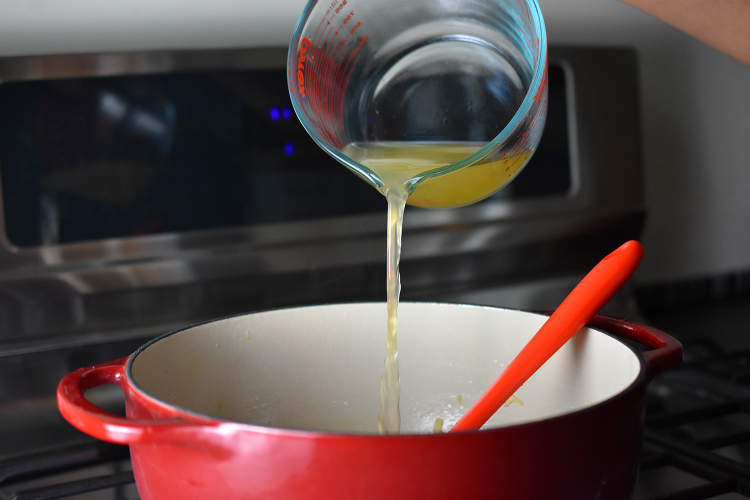 Then, stir in the cabbage, carrots and potato, and bring the soup back to a boil. Don't worry about cramming too many veggies into the pot—the cabbage will cook down!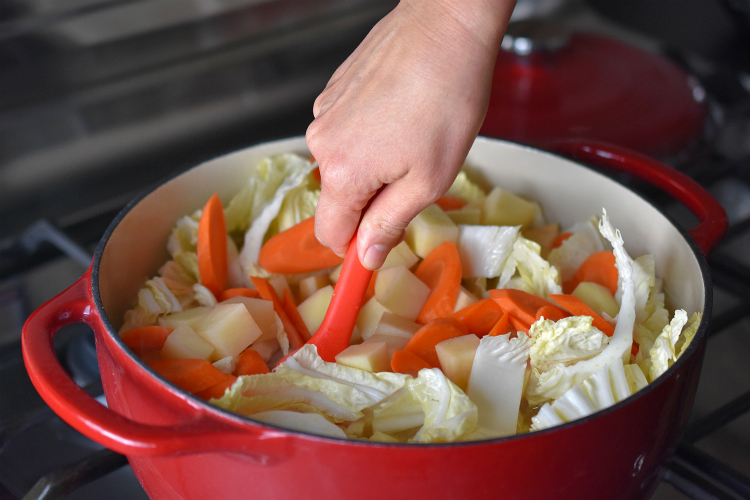 Lower the heat to medium or medium low to maintain a simmer, and partially cover the soup with a lid, leaving a crack so it doesn't boil over.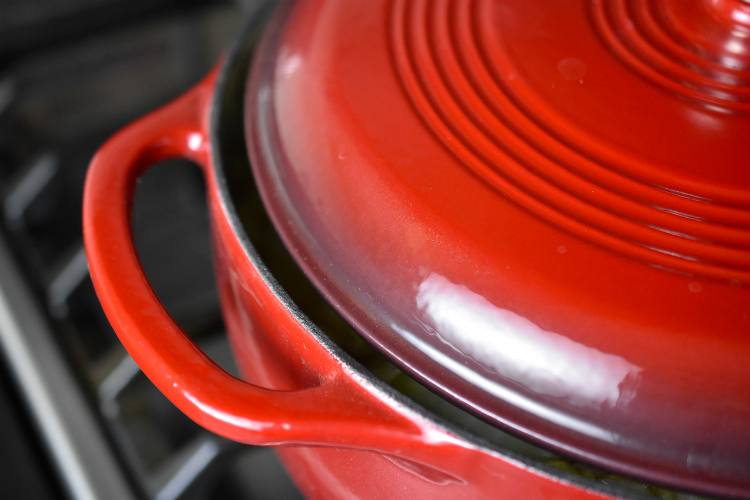 Simmer the soup, stirring occasionally until the vegetables are easily pierced with a fork (about 15 minutes). Peek under the lid to make sure that the soup isn't boiling over or barely percolating, and adjust the heat up or down as needed.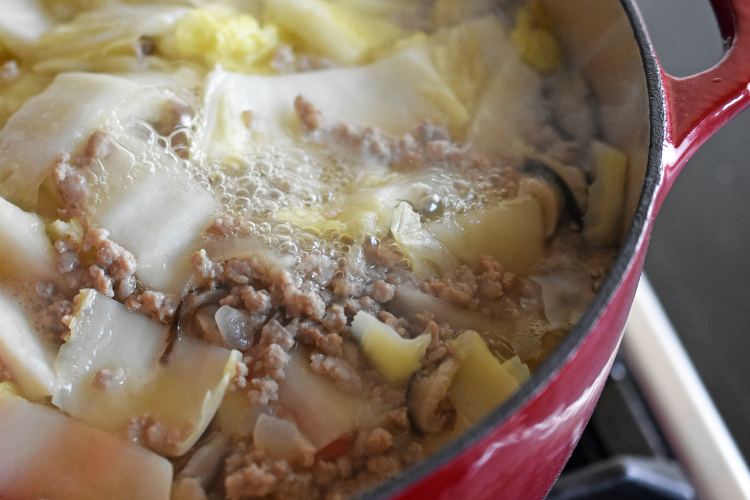 If you want to make this soup in a pressure cooker, sauté the ingredients in the pressure cooker as directed above. When you're ready to simmer the soup, close and lock the lid; then, cook it under high pressure for 3-5 minutes. Release the pressure manually when the soup is finished cooking.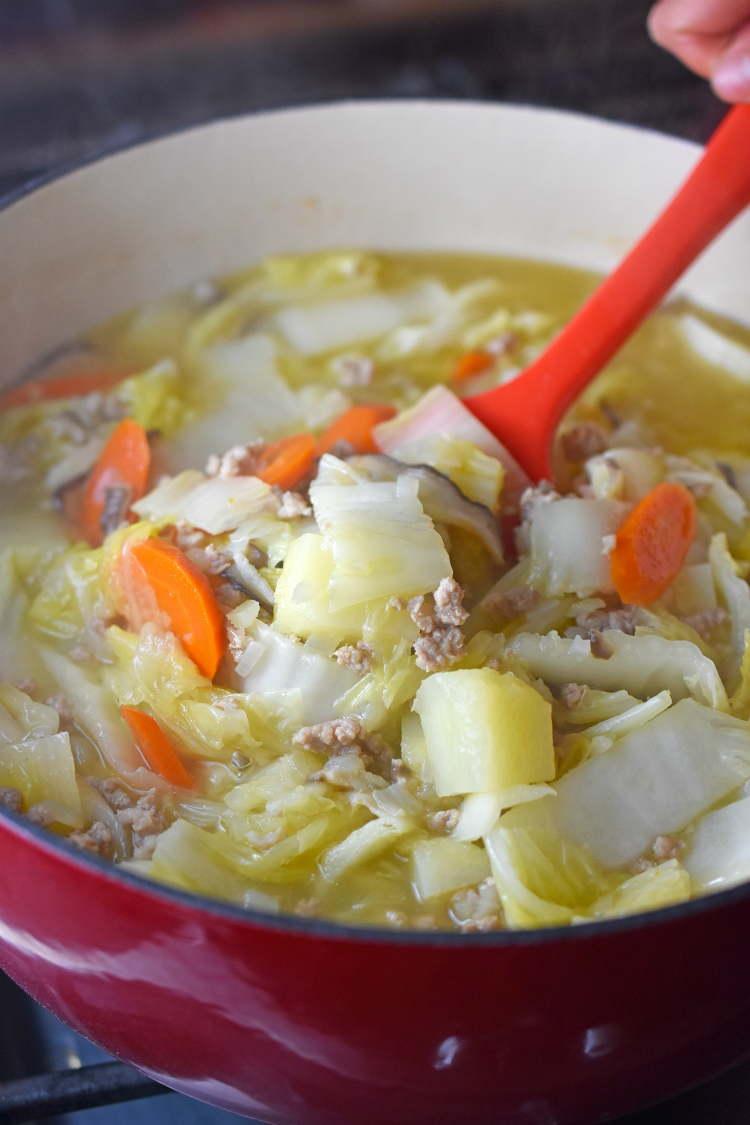 Season to taste with salt and freshly ground black pepper. Ladle into bowls and garnish with fresh scallions.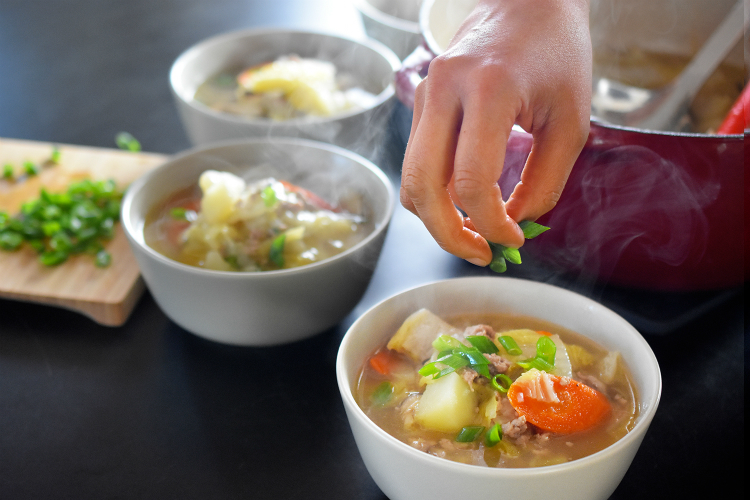 If you've got leftovers, you can store 'em in the fridge for up to 4 days or freeze for several months. Try this soup for breakfast on a chilly morning, and you'll never crave a soggy bowl of cereal again!
---
Looking for more recipes? Head on over to my Recipe Index! You'll also find exclusive recipes on my Webby Award-Winning iPhone® and iPad® app, and in my New York Times-bestselling cookbook, Nom Nom Paleo: Food for Humans (Andrews McMeel 2013).
0