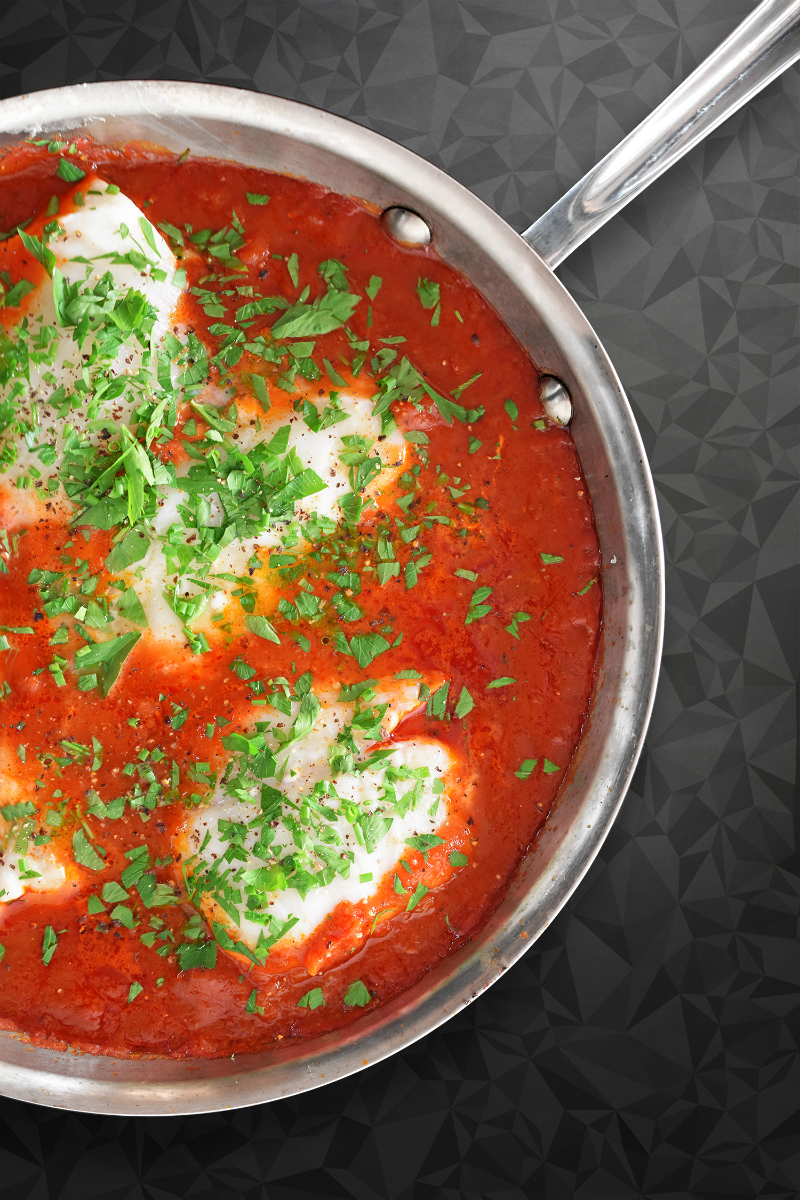 Looking to get more fish in your family's belly but freaked out about how to cook it properly? Well, I've got a fool-proof and tasty recipe for you. Even picky little Ollie is full of praise for this quick dish ("it tastes like lasagna fish!") and scarfs it down without (an excessive number of) complaints.
This dish is on constant rotation in our house because it utilizes a few ingredients I already have stocked in my kitchen: defrosted fish fillets from my freezer and store-bought Paleo-friendly sauces in my fridge or pantry. (Of course, the dish will only taste as good as your sauce, so pick a delicious one with high-quality ingredients.) Plus, I only dirty one pot, and the fish is ready in just 15 minutes. Especially for those of you who feel like you cooked and ate too much over the holidays, this simple, healthy weeknight dish will get you back on the straight and narrow.
As a matter of fact, it's so simple that I'm a little sheepish about posting a step-by-step recipe. I used store-bought sauce, and my only flourish was to add a sprinkle of fresh herbs at the end, so this is barely a recipe at all. In fact, when I texted my pal Diana Rodgers about posting this recipe on my blog, her reply was this: "LOL. Put fish in Rao's sauce and turn stove on? I'm on to you. #faker."
Guilty as charged. I've always been about finding and sharing shortcuts to deliciousness, so call me a faker if you want, but I like to think of myself as a lazy genius. (I'm modest, too.)
Here's how to make this fab fish recipe…
Serves 4
Ingredients
Equipment
Method
If you're using frozen fillets, thaw the fish overnight in the refrigerator. Don't be frustrated if the fillets aren't completely thawed by dinnertime; simply place the cod packets in a bowl and run cool water on them. Let the fillets sit in the water for 10-15 minutes, and they should be ready to go.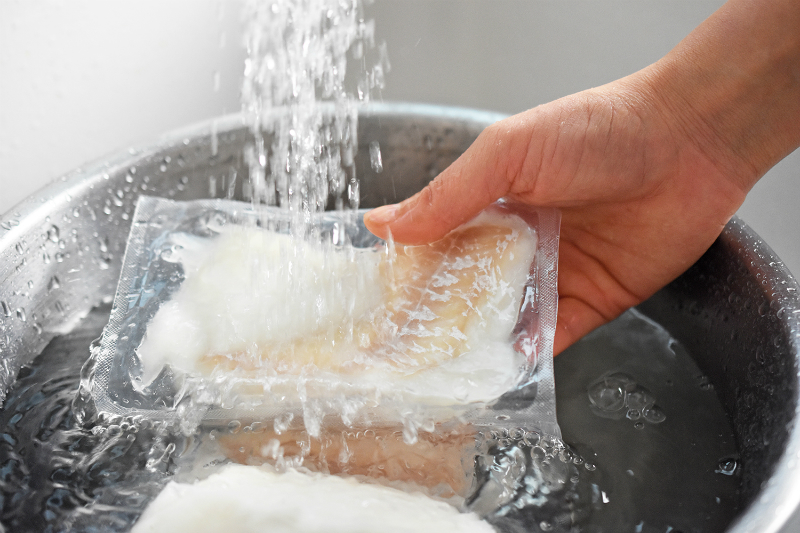 (Obviously, you can skip the step above if you're using fresh cod.)
Blot the fish with paper towels…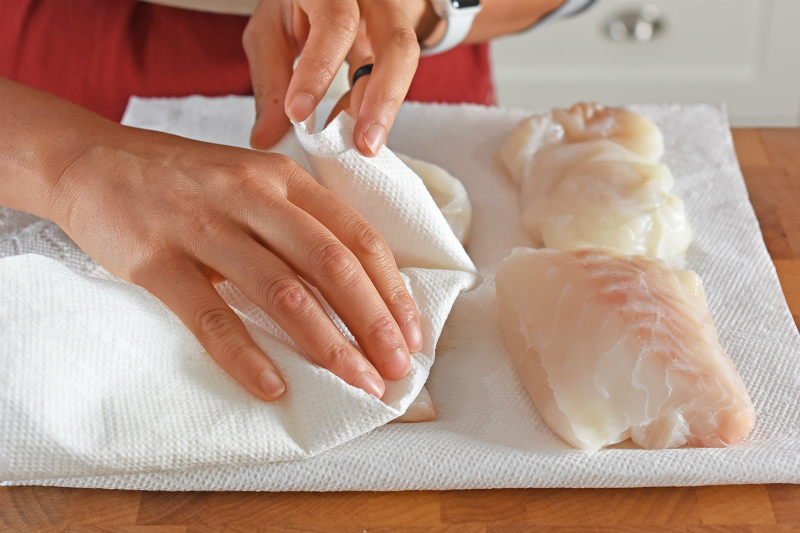 …and sprinkle both sides with salt.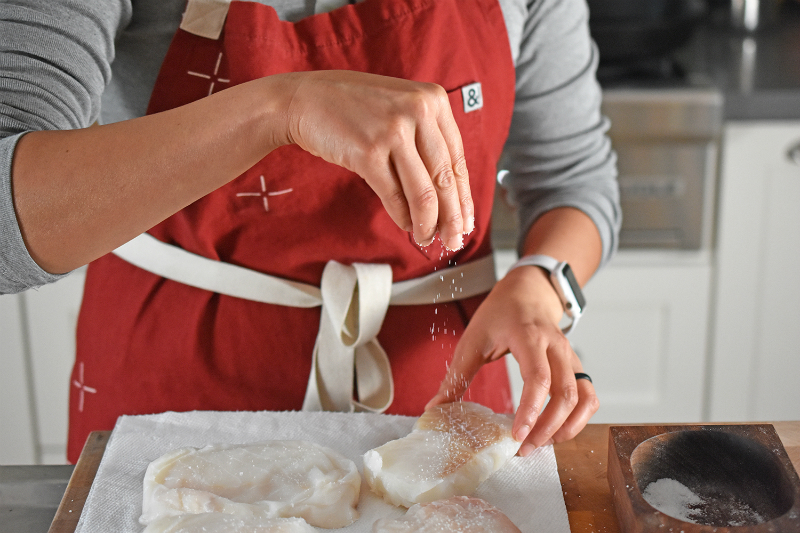 Grab a skillet with a lid, and pour in about two cups of marinara sauce or salsa. The skillet should be large enough to fit the fillets snugly in a single layer. If you're poaching four fillets, a 10-inch skillet works great.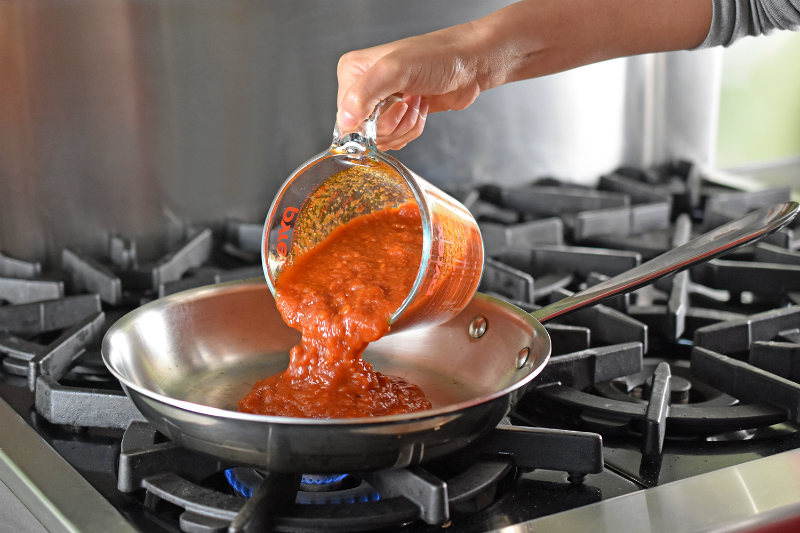 Crank the heat up to high to bring the sauce to a boil.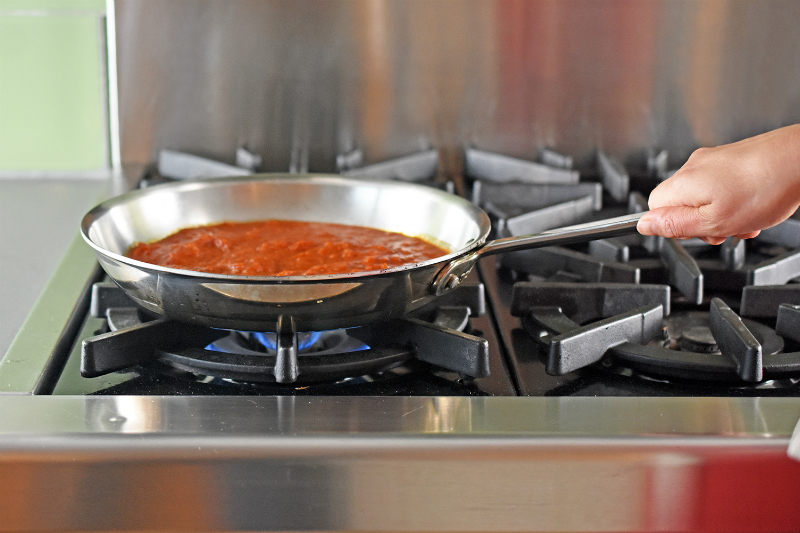 When the sauce is bubbling…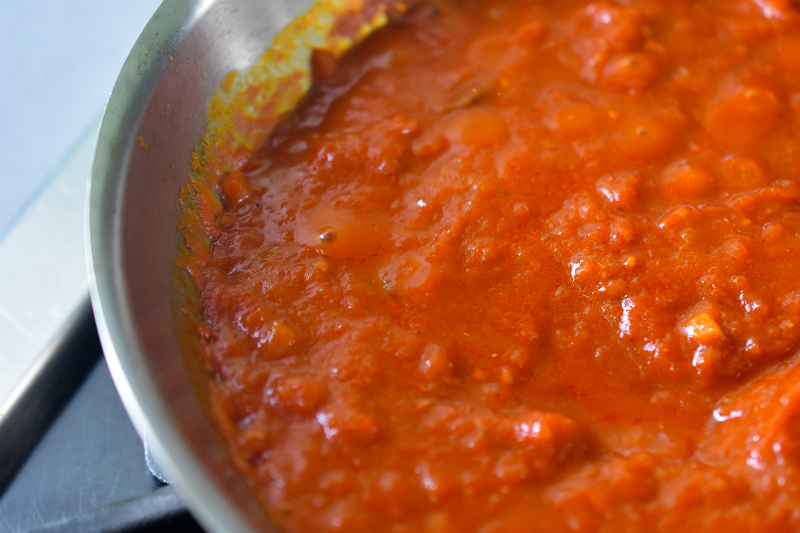 …carefully slip in the seasoned fillets.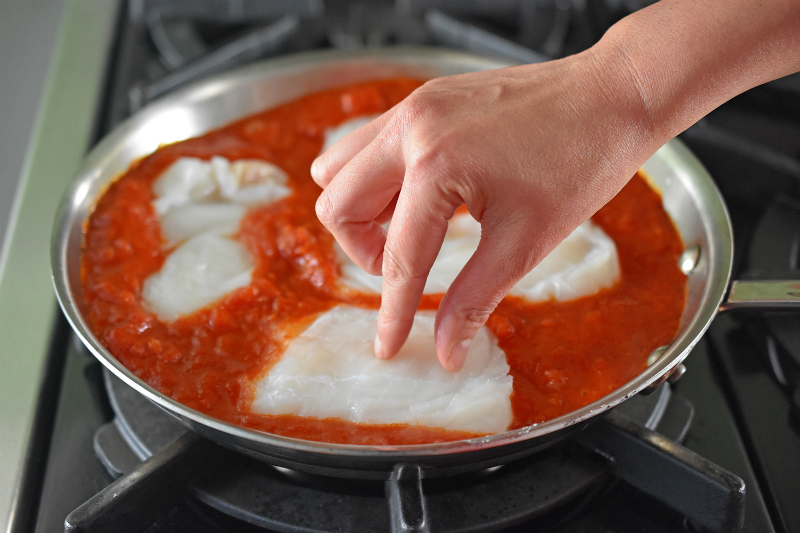 Lower the heat to about medium-low—enough to maintain a simmer.
Then, cover the pan and cook for 5 to 8 minutes or until the fish is opaque and cooked to your preferred doneness. Once the thickest part of the fish reaches 130°-140°F on an instant-read thermometer, I take the pan off the heat. (I know the FDA says 145°F is the safe temperature for cooked fish, but for my tastes, that's overdone. Instead, I refer to this chart for fish cooking times.)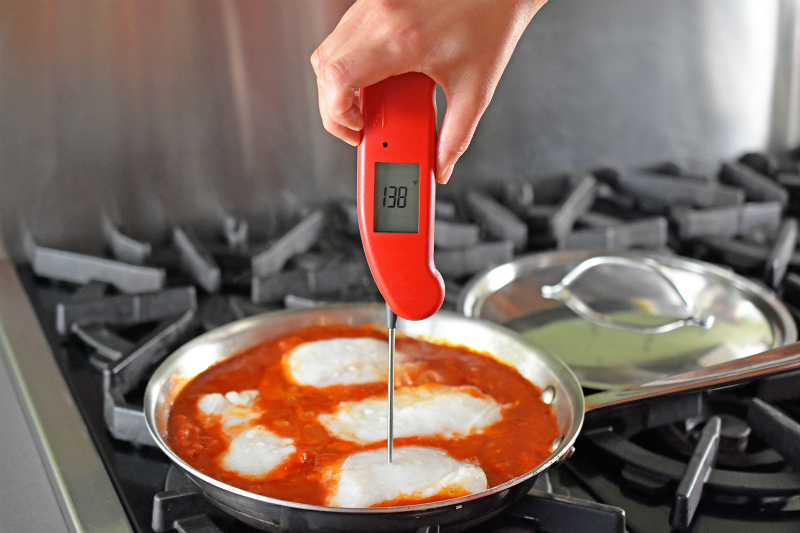 Top the fish with freshly cracked black pepper and a shower of fresh herbs.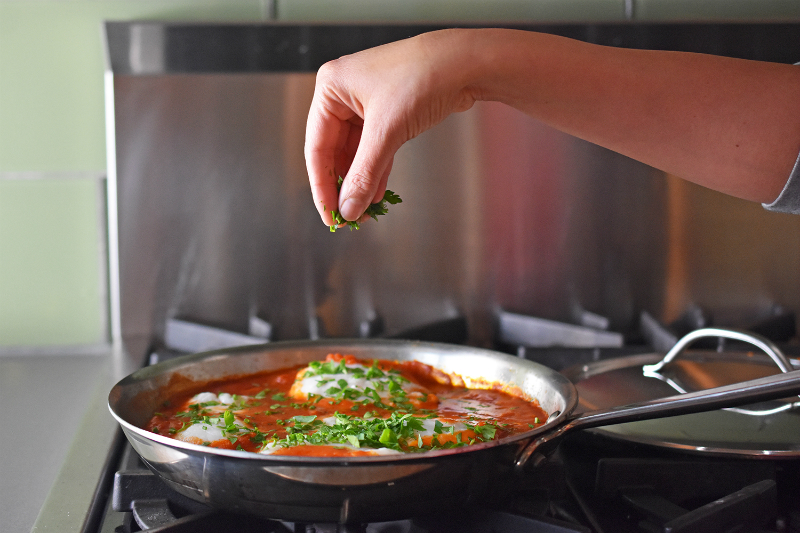 I like to garnish the cod with Italian parsley, basil, and chives when I poach in marinara sauce, and cilantro and green onions when I poach in salsa. I'm flexible like that.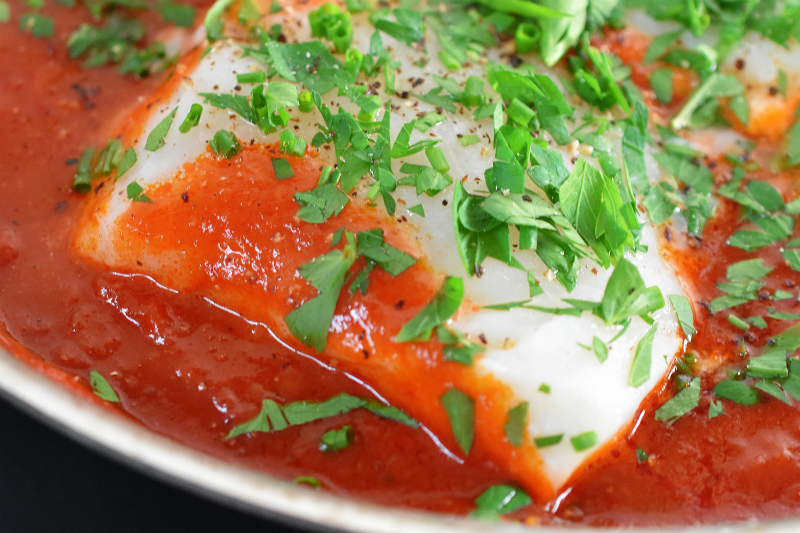 Serve the saucy fish with a giant green salad, a big platter of roasted vegetables, or cauliflower rice. How easy was that?
---
Looking for more recipes? Head on over to my Recipe Index! You'll also find exclusive recipes on my Webby Award-Winning iPhone® and iPad® app, and in my New York Times-bestselling cookbook, Nom Nom Paleo: Food for Humans (Andrews McMeel 2013).
0