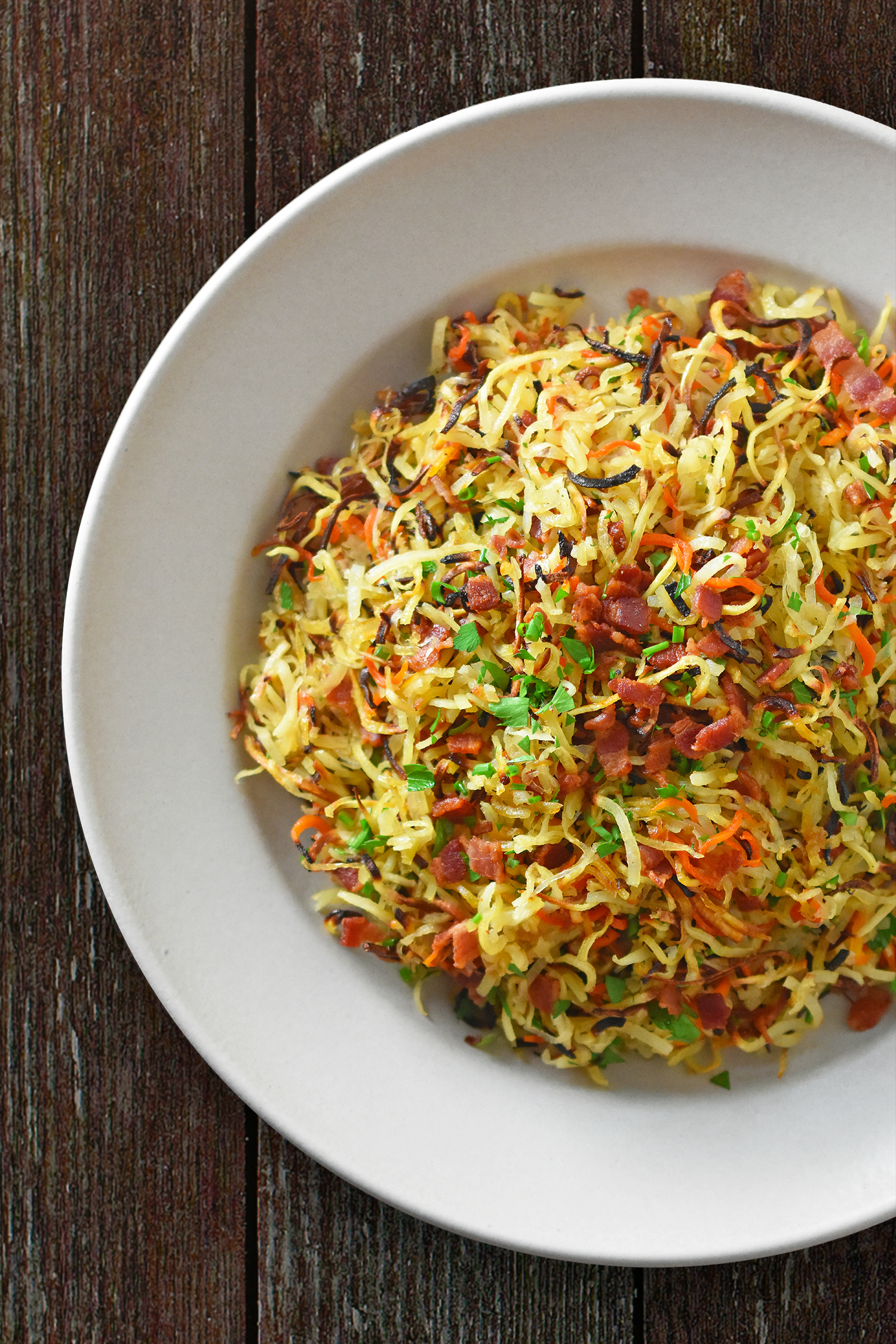 Wanna know my latest trick to get my kids to eat more vegetables? I transform sweet potatoes into "swoodles" with a spiralizer, roast them, and toss 'em with crispy bacon bits. Yes, I know adding bacon is cheating; after all, smoky, salty porky bits make everything taste better. But even without them, the crunchy combination of roasted sweet potatoes, carrots, and onions—finished off with a shower of fresh herbs and a splash of lime juice—will win over your pickiest eaters. And I'm not just talking about children. Even my finicky father happily tucked into a plate of swoodles thinking this was some sort of newfangled noodle dish.
A few tips before we dig in:
Using a spiralizer will speed up the prep for this dish, but if you don't have one on hand, you can push the vegetables through the shredder attachment of a food processor. If you're in the market for a spiralizer, I recommend getting either the Oxo Spiralizer or The Inspiralizer. (I share why I like both models in my 2016 Holiday Gift Guide.)
I've tried this dish with regular white potatoes, but the sweetness of sweet potatoes yields the best flavor balance in this dish. Try not to use Garnet sweet potatoes or any of the orange-fleshed varieties, though. White-fleshed sweet potatoes (e.g., the Hannah variety) work best for this dish 'cause they're more dry and won't get mushy when roasted.
Make a big batch so you'll have leftovers for the rest of the week!
Let's spiralize some vegetables!
Serves 4
Ingredients
½ pound bacon, cut crosswise into ¼-inch pieces
2 pounds white-fleshed sweet potatoes, peeled
2 large carrots, peeled (the fatter, the better for spiralizing)
1 small yellow onion, peeled
Kosher salt
1 medium lime
Freshly ground black pepper
2 tablespoons chopped Italian parsley
2 tablespoons minced chives
Equipment
Method
Preheat your oven to 400°F on convection mode (or, if you don't have a convection function on your oven, set it to 425°F on regular mode), with the rack in the middle position.
While the oven is heating up, toss the bacon bits into a large skillet and crank the heat to medium. Cook, stirring occasionally until all the fat is rendered and the bacon is crispy, about 15 minutes.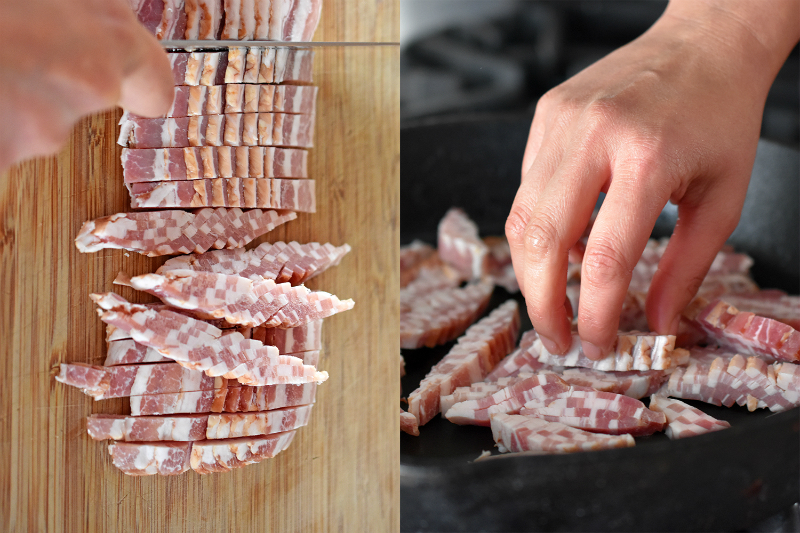 While the bacon is turning into crunchy porky bits, spiralize the sweet potatoes, carrots, and onion. Yep, you can spiralize all of them. To ensure success, make sure you've got thick 'n girthy veggies (at least 1½ inches in diameter) and make sure the ends are sliced smoothly and evenly. For more on how to spiralize like a boss, check out these tips.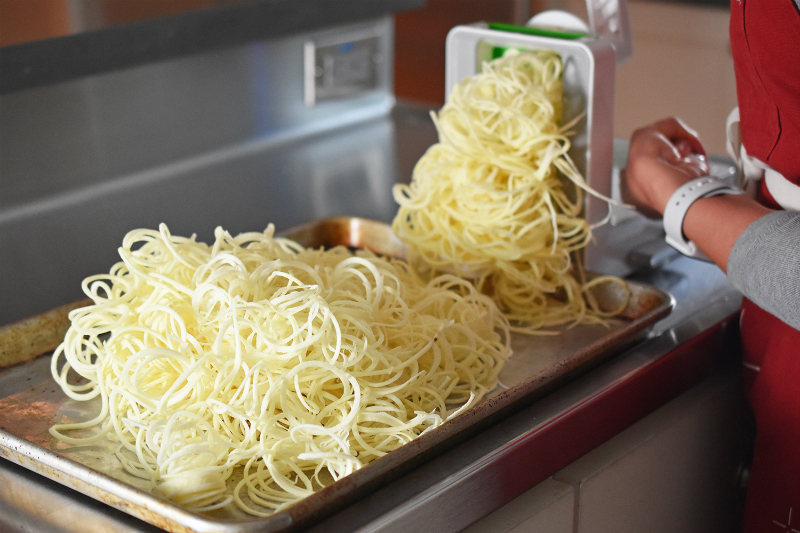 Grab a rimmed baking sheet and place the veggie noodles on top. If the strands are crazy-long, use a pair of kitchen shears to cut the swoodles into more manageable lengths.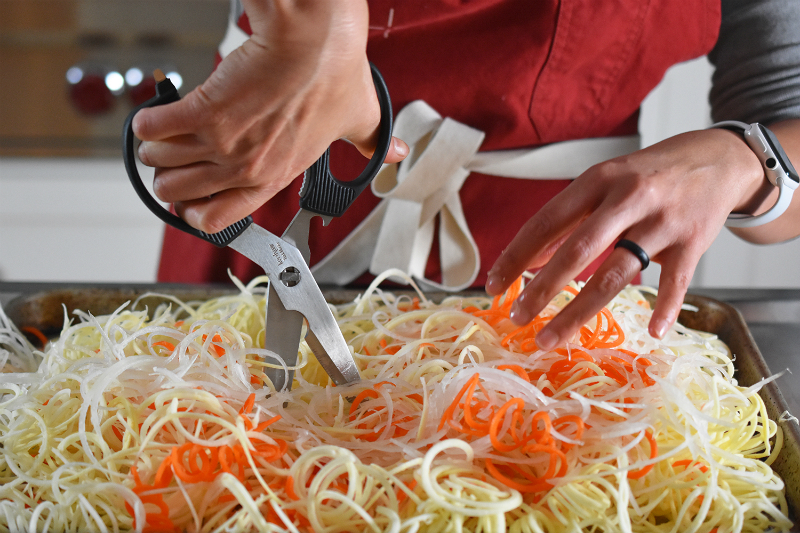 When the bacon bits are crunchy…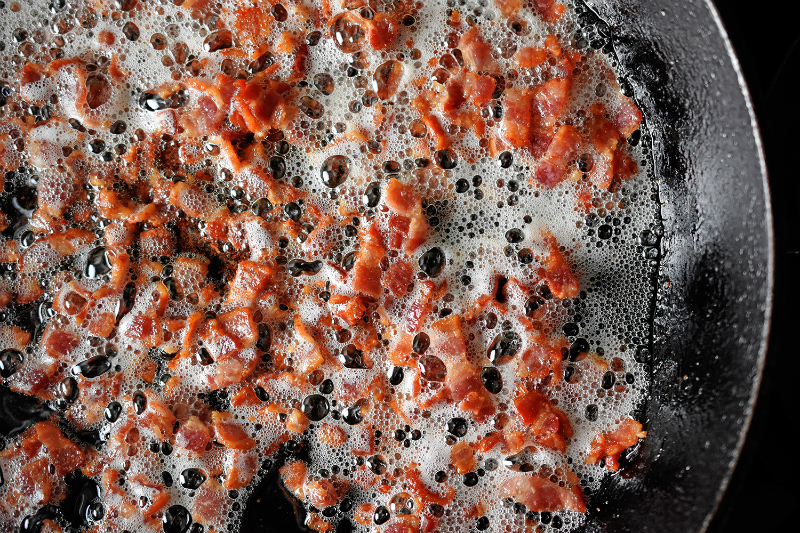 …use a slotted spoon to transfer them onto a paper towel-lined plate.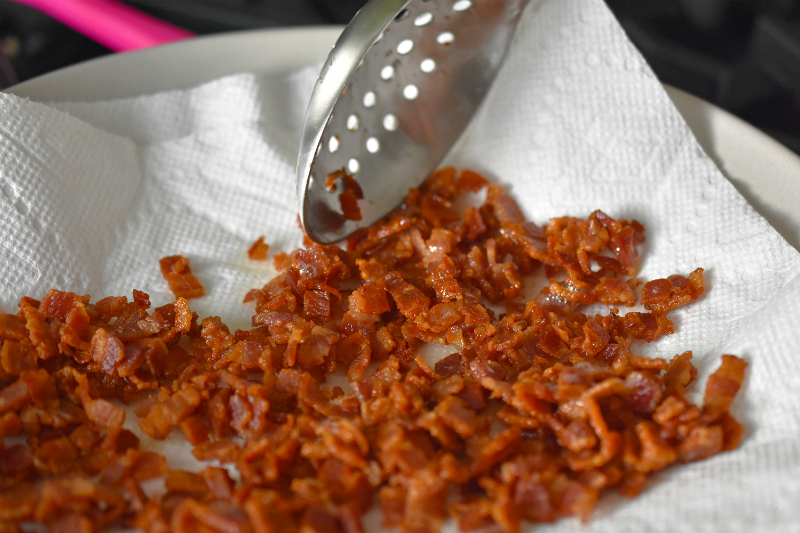 Toss the vegetable noodles with 1½ teaspoons kosher salt…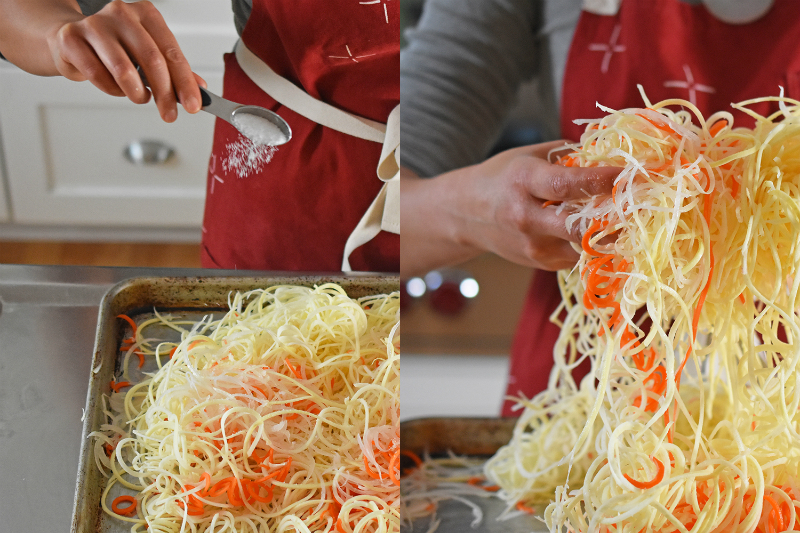 …and the reserved bacon drippings.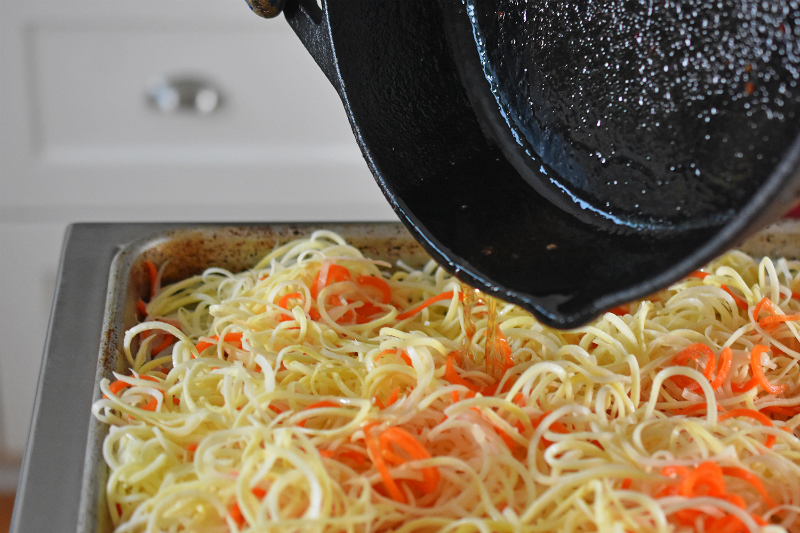 (If you want to make this dish vegetarian-friendly, substitute ⅓ cup olive oil or avocado oil in place of the bacon grease.)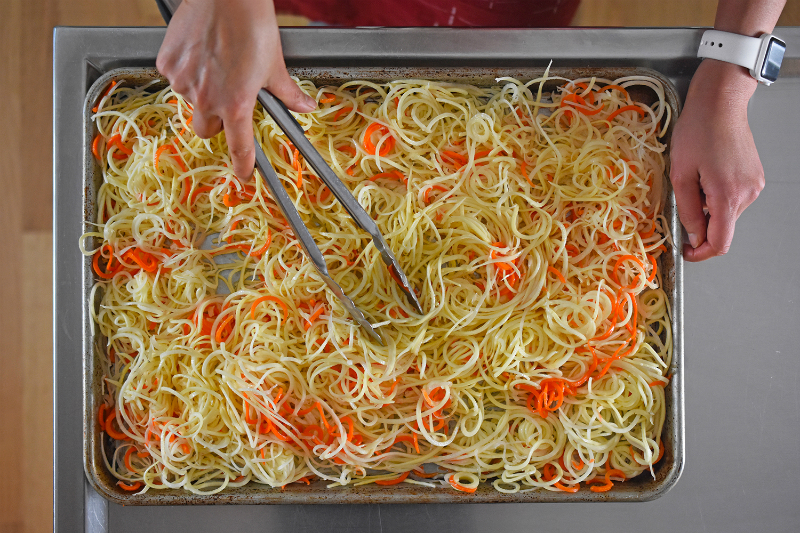 Place the tray of veggies into the oven and roast for a total of 35 to 45 minutes, stirring the veggies every 10-15 minutes to make sure they cook evenly.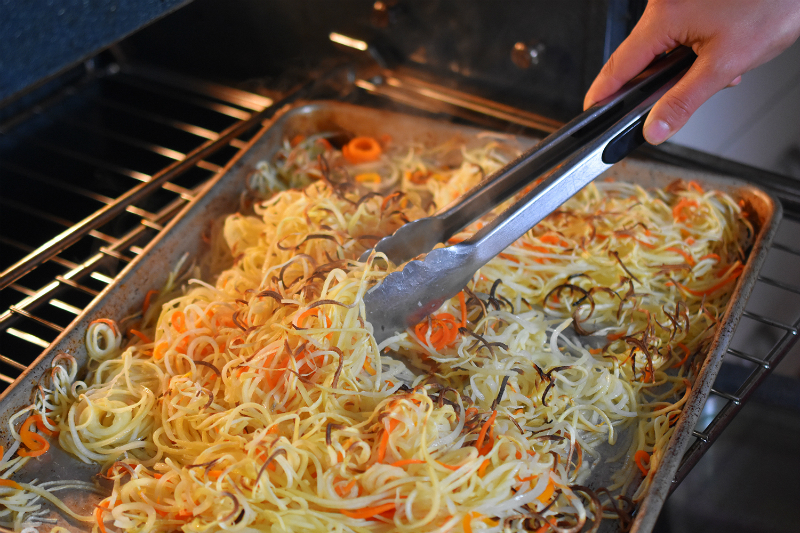 The swoodles are done when the veggies are tender and have crispy bits all over. Watch your veggies like a hawk in the last 10 minutes to ensure that the onions and sweet potatoes don't burn!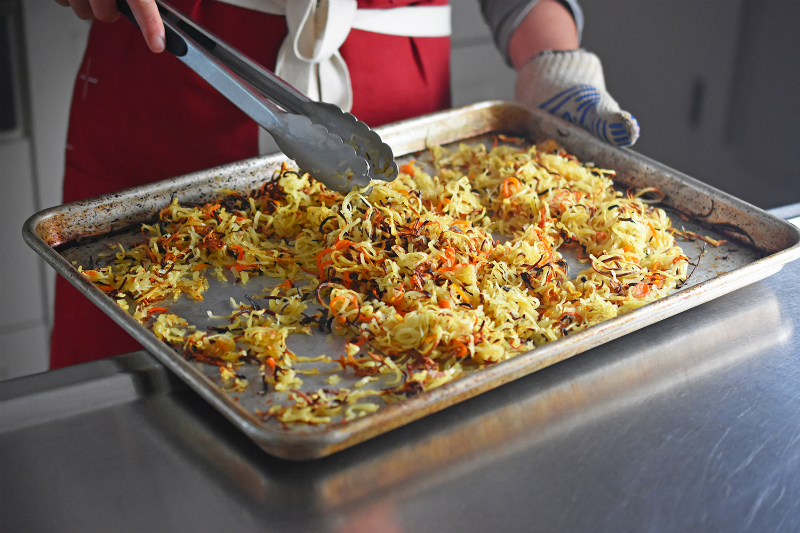 Squirt on the juice from one lime and season to taste with salt and pepper.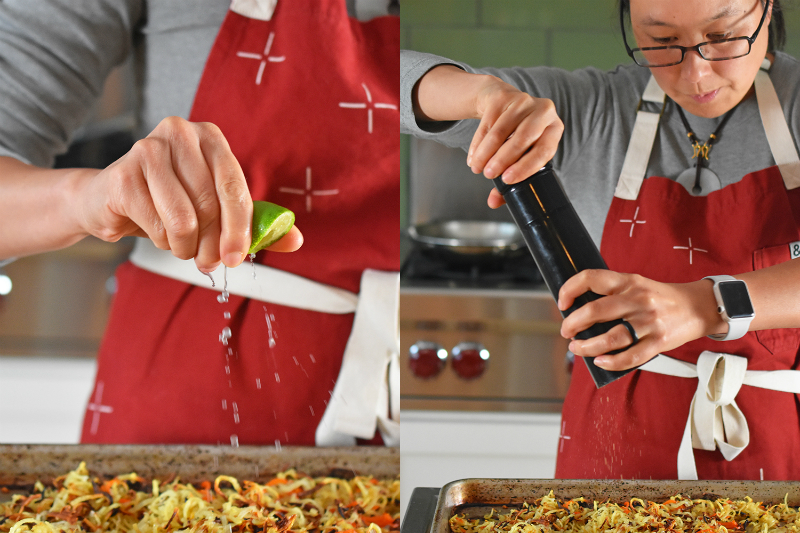 Pro tip: the best way to extract as much juice as possible from a lime is to cut slices parallel to the central core. This method ensures that a lot of surface area is exposed and the seeds are left in the center.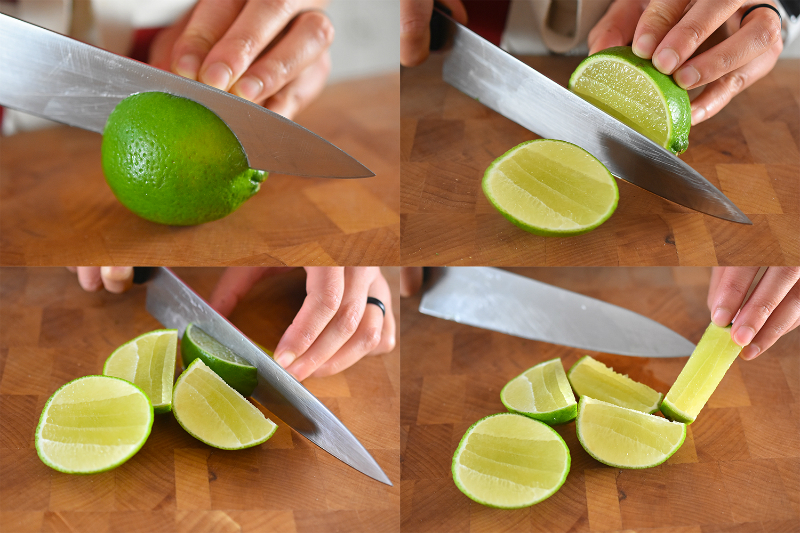 Top the roasted swoodles with a shower of chopped parsley, chives, and crispy bacon bits.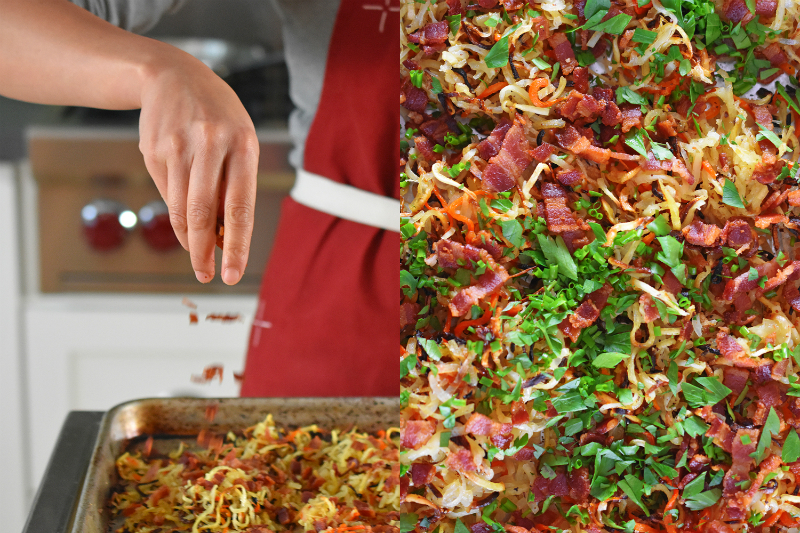 Serve immediately with your favorite roasted meats or seafood.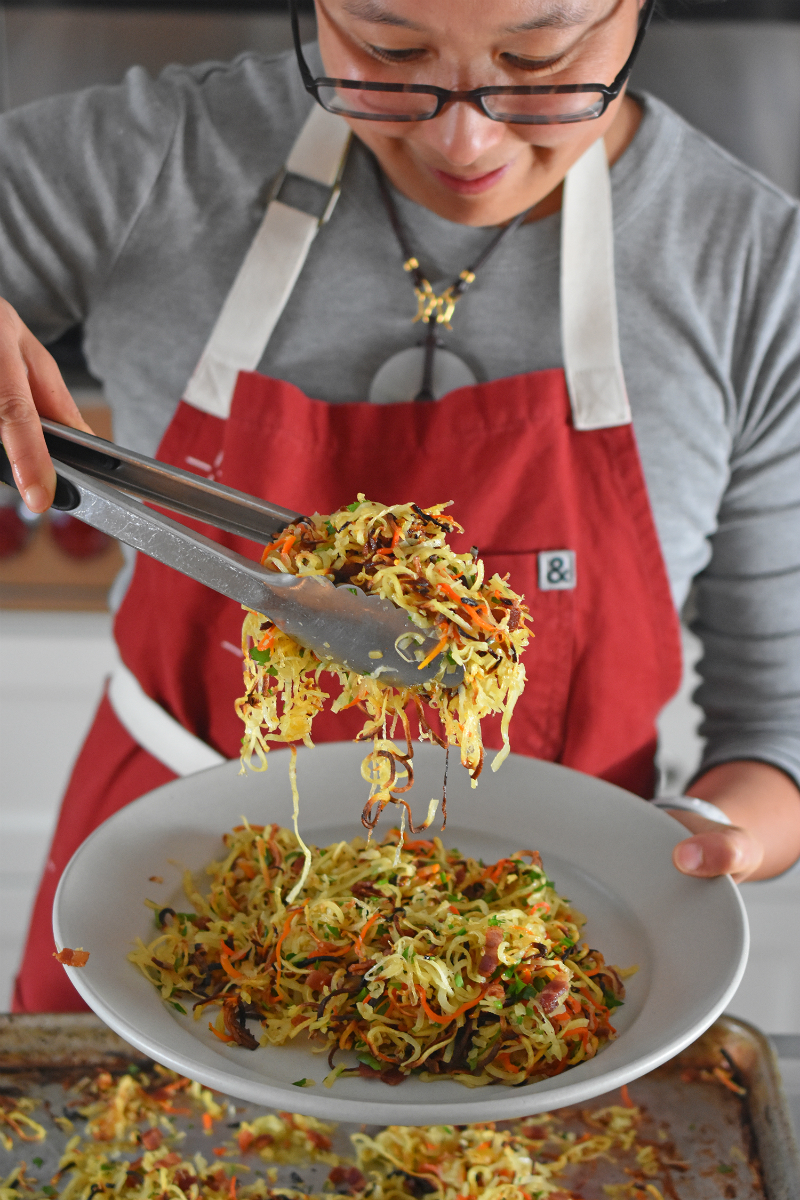 If you've got any leftovers, you can store them in the fridge for up to a week or in the freezer for a few months.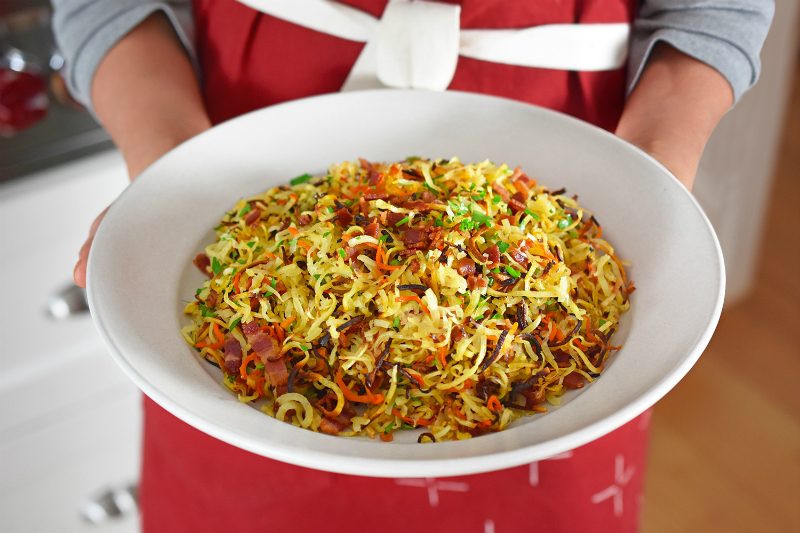 Psst! Here's a great breakfast idea: in the morning, make a yummy fried egg in a swoodle nest!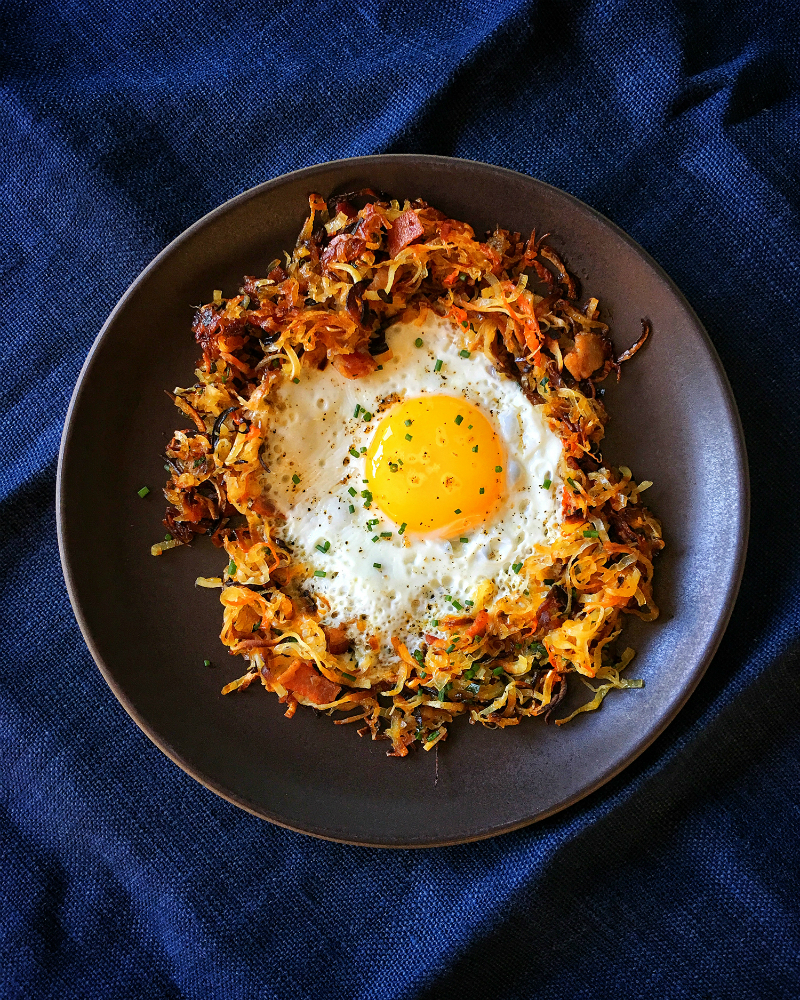 ---
Looking for more recipes? Head on over to my Recipe Index! You'll also find exclusive recipes on my Webby Award-Winning iPhone® and iPad® app, and in my New York Times-bestselling cookbook, Nom Nom Paleo: Food for Humans (Andrews McMeel 2013).
0